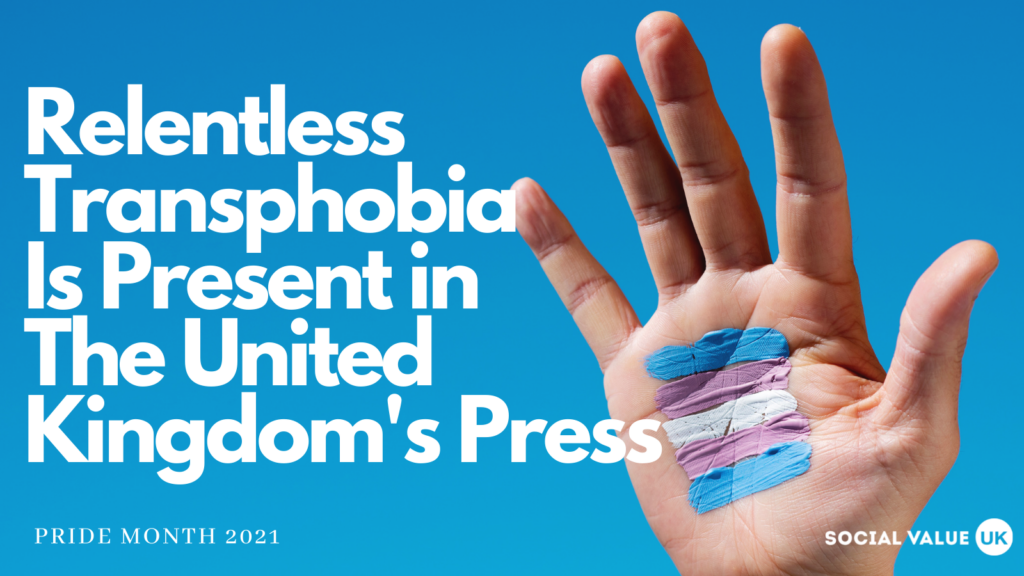 Posted 17th June 2021
The following blog was written by Social Value UK's Communications and Campaigns Manager, David Thomas (he/him) and LCR Pride Foundation's Board Member, Emma Stewart (they/them). Social Value UK continues to show a commitment to accounting for social value, thus working to decrease inequality and improve wellbeing
From a quick search on Google News, it's easier to see how deeply ingrained the press narrative around trans issues has become. On page one there's a mix of once famed gay activists slandering LGBTQ+ solidarity and stories of murder intermingled with the celebration of certain trans celebrities.
Now more than ever, you're likely to see trans people featured in the press. In fact, stories are up 400% in the last decade than previously, at face value, this seems like a massive step in the right direction.
In truth, we're seeing cisgender commentators use their platforms to attack the trans community at all angles. Journalists, such as Suzanne Moore, have claimed that they're being forcibly silenced, whilst conveniently neglecting to focus on the discrimination they've shared on a national scale.
In a review, Chief Executive of IPSO, Charlotte Dewar said:
"Some of the most contentious and sensitive issues handled by IPSO relate to the reporting of transgender matters. Coverage generates broad, sometimes heated debate, and raises complex questions around balancing reporting freely on important societal issues with the potential impact on vulnerable individuals."
Furthermore, Mediatique completed 43 in-depth interviews with newspaper and magazine editors, publishers, journalists and groups and individuals from all perspectives. Research identified perceptions amongst some of increased hostility towards transgender individuals as issues are debated. Some of the interviewees viewed this as indicative of worsening standards.
Recently, a member of Stonewall staff has been forced to take a sabbatical due to the 'relentless transphobia' faced.
These incidences are not independent of each other
Studies show the rise in hate crimes, in the United States, reports of trans hate crimes rose 20% in 2019 alone. In 2020, fatal attacks on transgender and gender non-conforming people were recorded at unprecedented levels by the Human Rights Campaign. This cannot be looked at as independent from the media and other failings.
The Charities Commission has recently announced infamous anti-trans campaigning group, the LGB Alliance, has earned status as a recognised charity. This formalisation of hate has not come without protest, with reports that over 500 complaints have been filed since the announcement on April 21. As of publication, no changes to their charitable status have been made.
Recent research from TotalJobs has found that 65% of trans people believe it is necessary to keep their identity secret from colleagues to feel safe and secure in their jobs. Previous research from 2016 found that just over half of trans people felt this way. There is no doubt that things need to change.
This is not an issue which can be solved overnight, where does freedom of speech end and protection of transgender and gender non-conforming people begin? Is there going to be a balancing act between the value of rights vs the wellbeing of people to be taken place, is this even ethical? How should regulatory bodies react, and what effect will this have on transgender and gender non-conforming people? Clearly evidence shows that the effect is massively negative currently, and increasingly dangerous. The IACHR claims research from Latin American organizations report that the life expectancy of trans women in the region is between 30 and 35 years of age.
Just last week, the famous Maya Forstater has been back in the UK press. Originally, it was upheld legal that Forstater had not had her employment contract renewed due to her views on gender, however now on appeal it has been decided that gender-critical views are a protected belief. Whilst recognised by the tribunal as 'profoundly offensive', it has been decided these views must be 'tolerated'. It has also been stated that this 'judgment does not mean that those with gender-critical beliefs can 'misgender' trans persons with impunity.' However further clarification is yet to follow.
In other walks, we're seeing trans visibility championed on a scale we've never seen before. FX's Pose just aired its final episode and featured the largest cast of trans women ever seen on television, Nikkie De Jager hosted this year's Eurovision song contest after coming out as trans in 2020, and Drag Race UK Season 2 contestant, Bimini Bon Boulash, won the nation's heart and securing themself a position as one of the most in demand models and public figures in 2021. Bimini's lyrics in 'U.K., Hun?', a top 40 hit spawned from her stint on the show, resonate with viewers globally. 'Don't be scared to embrace the femme/ Whether you're he, she, or them/ Limp wrist, hair flick, crème de la crème/ Love yourself, say that again'. With covers of magazines coming non-stop, a single played over BBC Radio stations and a book to follow, Bimini Bon Boulash is fast on track to become one of the most famous people in the UK.
Social Value UK will always support and uplift the LGBTQ+ community, and this means calling out discrimination where we see it. We encourage all our members to do the same, to work as allies and to work to continually make the world a more inclusive place.