Reports Database:
Tomorrow's People Trust Ltd.: "Getting Out To Work"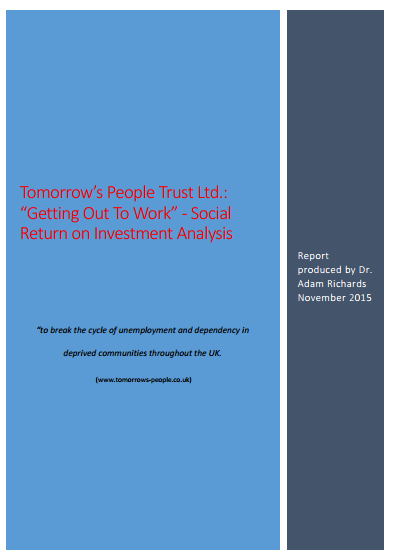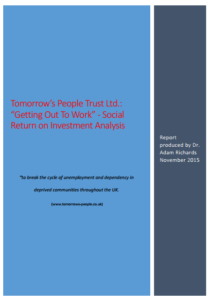 "This report provides an outline of the Social Return on Investment (SROI) analysis conducted to evaluate Getting Out To Work (GOTW), funded by The Big Lottery Reaching Communities Fund and managed and operated by Tomorrow's People. Interviews with key stakeholders have informed the analysis that employs the principles of the SROI framework to understand what has changed in the lives of GOTW's clients and monetise these important changes.
In line with the mission of the national charity, the overriding intention of GOTW is to provide intensive employment support to men and women after a time in prison, or serving their sentence in the community, or those people who are at risk of offending behaviour.
However, it is recognised that many people in these situations require additional support in their quest for work. For that reason, one-to-one support relationships built around an individual action plan that offers support in the way that individuals require it – be that vocational training, help accessing funding opportunities, practical advice, communication with employers or on-going contact and support including In-Work Support – provides clients with improved likelihood of finding and securing sustainable employment over the long term.
Comparing the overall value of outcomes to the relative investments cost required to create the benefits reveals a social return on investment of £4.16: 1. This indicates that for each £1 of investment, £4.16 of social impact is created.
Whilst the result of the analysis is positive, this report also importantly identifies where significant improvements are possible in the capture and management of social impact information. GOTW clearly positively impacts on the lives of those it works with, but without more understanding it is impossible to appreciate how important different changes are, how to manage these, and what the overall value is."