Reports Database:
The social value of CLG Na Fianna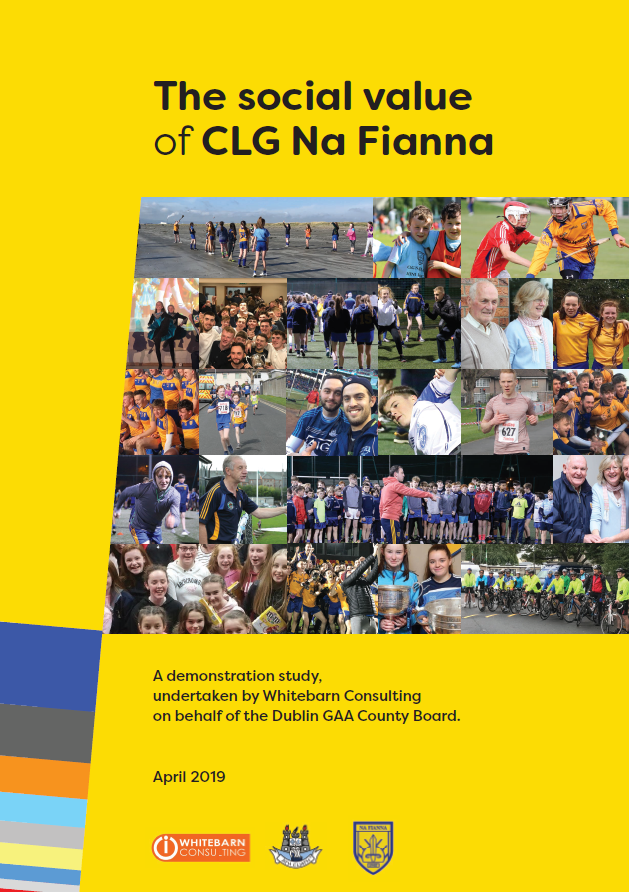 Na Fianna was founded in 1955 by its 201 original members who predominantly lived in the Glasnevin/Drumcondra/Phibsboro area of north Dublin.
Ba chuid lárnach de shaol CLG Na Fianna í an Ghaeilge ó bunaíodh an Club. Deineadh gach cuid de ghno oifigiúil an Chlub as Gaeilge ins na blianta tosaigh.
In 1963 the club reached an agreement with the Office of Public Works to lease grounds at Mobhi Road. Over an 18-month period, the Guinness Sports Club timber-framed clubhouse was removed from the Iveagh Grounds in Crumlin, south Dublin and reassembled by the club's volunteers. A week prior to the official opening in 1967, it was burned down in an arson attack.
Na Fianna established its camogie section in 1969. It was the first club to grant female players full membership rights. That year it also won its first Dublin Senior Football Championship.
The clubhouse was rebuilt between 1970 and 1972; at that time one of the most modern clubhouses in Ireland incorporating a hall, bar, dressing rooms and indoor handball court.
The ladies football section was founded in 1989.
1991 saw the establishment of one of the first GAA club nurseries for younger children.
The club had significant sporting successes in the decade 1991 – 2001.
A major redevelopment programme took place in between 2003 and 2010 that included the renovation of the clubhouse, construction of meeting rooms, a gym and all-weather facilities (including a training area, hurling wall and outdoor handball alley).
In 2017, Na Fianna won seven county titles (one in camogie, three in hurling and three in football). Club member John Horan was elected President of the GAA. Na Fianna was awarded a bronze medal by the Joe McDonagh Foundation for its work on promoting the Irish language and the following year, it received a silver medal.
Today, ever-growing Na Fianna is the sporting, social and cultural heart of the local community, with its club premises at Mobhi Road being the epicentre of a wide range of activities.