Reports Database:
The value of giving back – the social return of Charity Shops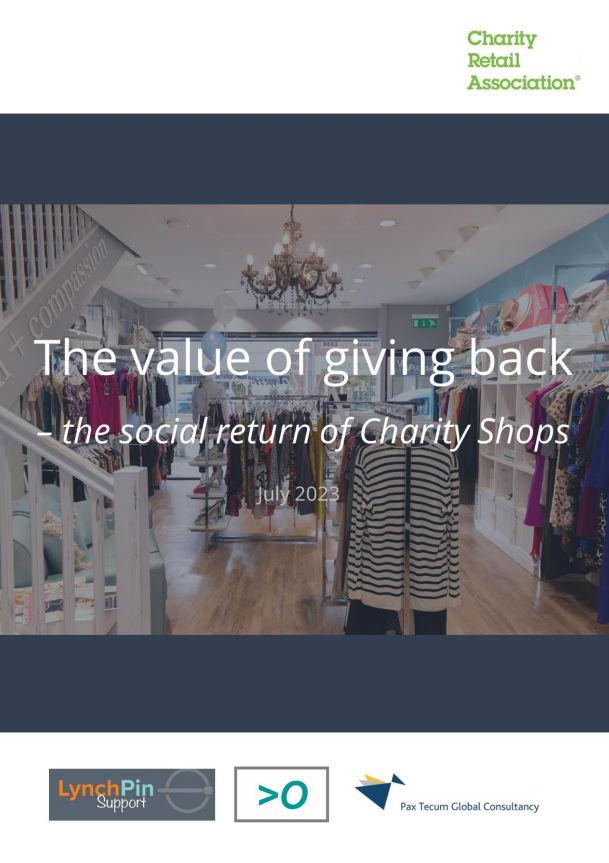 Executive Summary
The value of charity shops goes far beyond what is captured in financial terms.
This Social Return on Investment (SROI) has been carried out to understand the social value of charity shops in the UK. Aligning to the International Principles of Social Value and conducted in accordance with the Social Return on Investment (SROI) framework published by the Cabinet Office of the UK Government, this analysis uses a stakeholder informed approach to show the social value generated. Accordingly, it uses the views of people that are most materiality affected (staff, volunteers, customers and donors) to determine what outcomes charity shops create and involves them to estimate their quantity, duration, value and causality. It is not an assessment of the savings to the state, environmental value or benefit to the economy.
The results conclude a total of £75.3 billion of social value generated by UK charity shops in 2022, an SROI ratio in the range between £1: £4.1-17.8 and a vast total positive impact on those people whose lives charity shops touch.
Nearly a third (29%) of this total social value is through increasing individuals' feeling of giving back to others and almost half (49%) of the total social value is about giving back to others or the planet. The highest social value per person was created for volunteers, whilst the highest total social value per stakeholder group was for the large group of customers across the UK. It was shown that for staff, volunteers, customers and donors 'giving back' to other people is the most important outcome for all groups, and it is through enabling this, charity shops are making the most difference to people's lives. Other important outcomes also include:
'Feeling that charity shop staff meet me with friendliness and compassion'
'Feeling that I am 'giving back' to the planet'
'Excitement from the shopping experience'
It is recommended that findings from this SROI analysis, and the use of the toolkit that will follow, is used to:
Evidence value: Help the charity retail sector in demonstrating its immense social
value to our societies.
To be responsive: Through illustrating what outcomes are most important to
stakeholders, this study can help charity shops to put actions in place where it
matters, to continue to increase and maximise the positive social value created.