Reports Database:
50 Lives 50 Homes Final Evaluation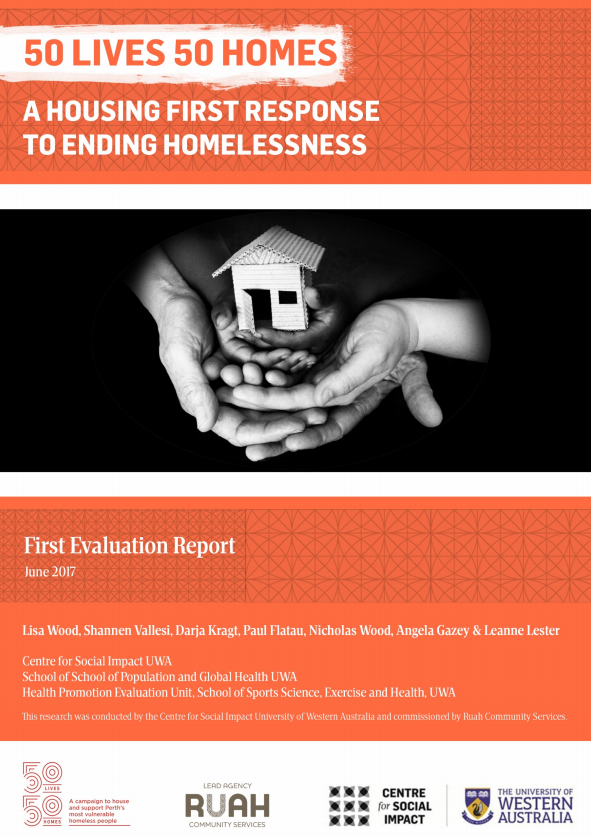 The aim of the 50 Lives 50 Homes project (hereafter referred to as 50 Lives) is to house and provide support to 50 of Perth's most vulnerable homeless people.
This research report constitutes the first of three reports for the evaluation of the 50 Lives. 50 Lives is a cross-sectoral collaborative project between a range of Perth-based agencies, including Ruah Community Services (which provides backbone support to the project) and, 27 other partner organisations to date, including, homelessness support services, community mental health services and government housing and health services.
The aims of this evaluation are to determine: 1) how effective and efficient the 50 Lives approach is in providing sustainable housing and wellbeing outcomes for the most vulnerable rough sleepers; 2) the impact of the 50 Lives project on client health, mental health, wellbeing, housing and justice outcomes; 3) the economic and social impact of the 50 Lives project; 4) the extent to which the 50 Lives collaboration enables improved service efficiencies and new innovative ways of working to improve client outcomes and addressing homelessness, and; 5) the main challenges and barriers to the 50 Lives project in efficiently and effectively providing sustainable housing outcomes for the most vulnerable rough sleepers.
The primary focus of this first evaluation report is to provide baseline data pertaining to objects 1 and 4. The evaluation of the 50 Lives project is being conducted by The Centre for Social Impact University of Western Australia (CSI UWA) with collaborators from Royal Perth Hospital (RPH), Homeless Healthcare (HHC) and the UWA School of Population and Global Health.
This evaluation has been designed as a longitudinal study and has utilised various sources and collection methods to measure the impact of the 50 Lives project. This includes data from the Vulnerability Index – Service Prioritisation Decision Assistance Tool (VI-SPDAT); client satisfaction surveys; de-identified administrative data from RPH and HHC; data from the Ruah After Hours Support Service (AHSS); in-depth interviews with 50 Lives clients and case studies on the working groups. The VI-SPDAT will be re-administered with the 50 Lives clients in early 2018, enabling comparative analysis and measuring changes in outcomes over time.
Overall the evaluation takes a realistic evaluation approach and recognises that there are a range of factors that influence the extent to which positive outcomes are attained for a client and this will be monitored over the course of the evaluation.