Reports Database:
A False Economy: How failing to invest in the care system for children will cost us all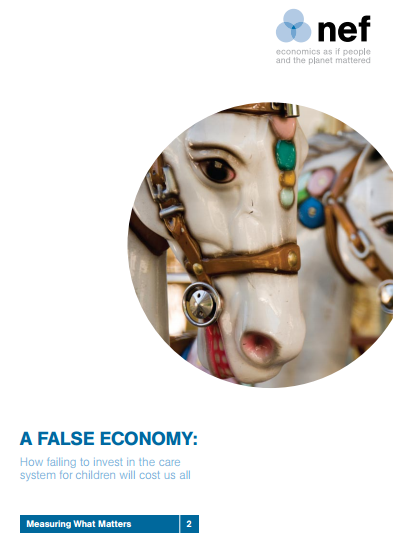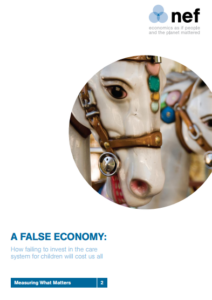 "Residential child care is often in the news, and nearly always for the wrong reasons. Good residential care services can still be found behind the dramatic headlines about 'failing' care homes and 'delinquent' young people. But the best work in this area is going unnoticed or has been undermined by a preoccupation with inappropriate performance targets and cost cutting.
This is one of the key conclusions reached by nef (the new economics foundation) which has used the concept of Social Return on Investment (SROI) to examine closely how young people are benefiting from the work of two of the UK's well-regarded care homes – Bryn Melyn Care Ltd and Shaftesbury Young People.
SROI analysis is a process for understanding, measuring and reporting on the social, environmental and economic value created by an intervention, and provides a valuable framework for measuring the long-term change created by public policy. In applying this form of analysis to residential care, nef has found that policy-makers are putting some of society's most vulnerable young people at even greater risk of exclusion because they are failing to grasp the benefits that high-quality care homes bring to children and to wider society.
The Commission for Social Care Inspection reported in 2005 that the performance of the UK's residential care homes was improving. But it also found that the improvements made were not translating into better outcomes for children. nef's research suggests that the Government and some local authorities are paying lip service to a 'child-centred' approach while making cuts that betray a lack of understanding of what young people in care really need and value. How we care for the young and old in the future is arguably one of the greatest challenges the public sector faces; although focussed on residential child care the findings from this research have more far-reaching implications."