Reports Database:
Agents of Technology, Agents of Change Impact Assessment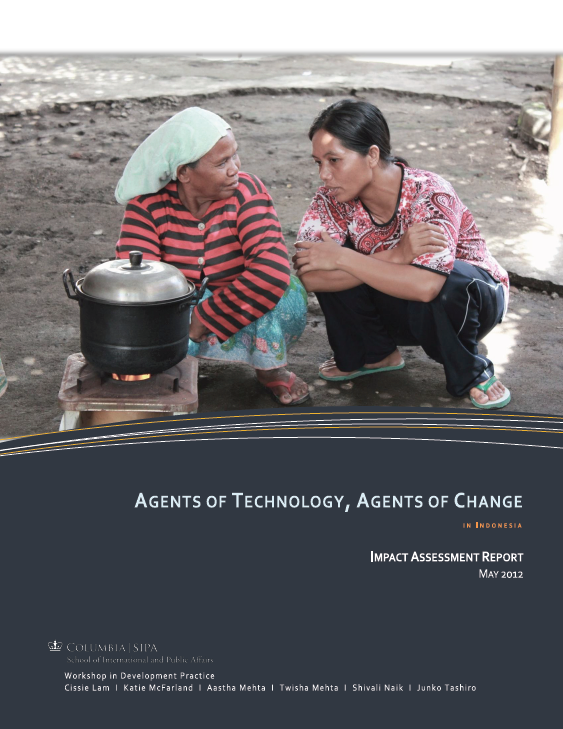 "Indonesia's rural population faces significant challenges in accessing cooking fuels. The use of open fires and inefficient cookstoves degrades the environment as well as causes detrimental health effects for households. Poor households face substantial time and cost burdens from purchasing or collecting wood to use with traditional cooking methods. Additionally, the Indonesian government's progressive reduction in kerosene subsidies
makes it more challenging to afford kerosene. Access to clean drinking water is also a challenge for rural and poor communities. Rural development challenges combined with Indonesian gender norms result in a lack of sufficient income generating opportunities for women.
Kopernik works to address critical development challenges through the distribution of lowcost, life-changing technologies to rural communities. In September 2011, Kopernik introduced the UB.03-1 Biomass Cookstove and Nazava Water Filter to selected communities on the island of Lombok, Indonesia. Kopernik disseminates the technologies through Pekka, its local partner organization. Through this partnership, women become
"Technology Agents" by selling the biomass cookstoves and water filters on a consignment basis. This program is intended to not only introduce the technologies to poor communities, but also to provide an income generating opportunity for poor women without the burden of taking on debt or risk. As of April 2012, 280 biomass cookstoves and 30 water filters were sold."