Reports Database:
Creating Social Value Through Access to Digital Education for Marginalized Schools – Pro Futuro Program Pilot Sites in the Philippines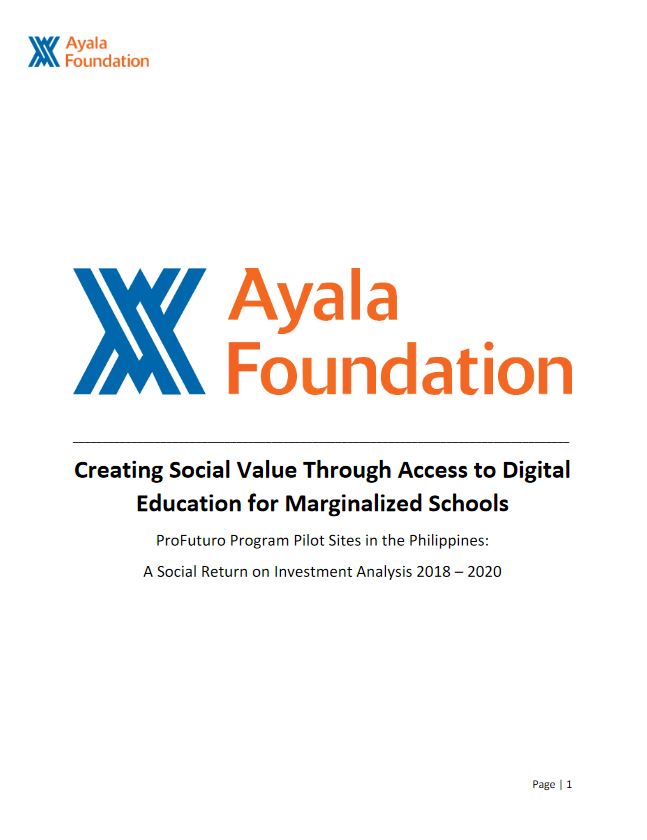 "The ProFuturo Program is a partnership between Ayala Foundation, Inc. (AFI) and Fundacion ProFuturo through a Master Collaboration Agreement signed in 2017 with the Department of Education (DEPED) Mindoro, Marinduque, Romblon, Palawan (MIMAROPA) Regional Office. The project aims to provide digital mobile classroom support to elementary school teachers and students with the goal of helping ensure quality elementary education. The digital mobile classroom is composed of three major components such as provision of devices and Internet connectivity, education platform and learning contents, and training and mentoring for teachers. Devices include tablets for students, laptops with software and router for teachers and mini projector for the class. Learning contents covers linguistics, mathematics, sciences, technology, values, and life skills.
The pilot implementation of ProFuturo was in two Ayala Foundation community development sites in El Nido, Palawan and Puerto Galera, Occidental Mindoro, both located in the MIMAROPA Region. AFI measured the Social Return on Investment (SROI) of this Pilot implementation covering 2018 – 2020. SROI is a framework for measuring social value. It aims to reduce inequality, environmental degradation, and improve well–being by accounting social, environmental, and economic costs and benefits (The SROI Guide, 2012).
The objective of the analysis is to investigate the benefits of ProFuturo to stakeholders and use the result to improve implementation of the program."