Reports Database:
Evaluation of the Getting Back to Work Programme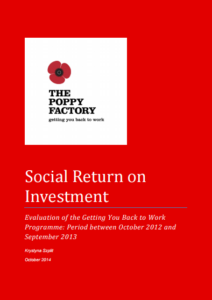 "The Poppy Factory is an independent charity and was established in 1922 by Major George Howson, who with a sum of £2,000 and the support of The Royal British Legion, wanted to create meaningful civilian employment for injured service men returning from the First World War. For more than 90 years The Poppy Factory has employed disabled veterans to make poppies, crosses and wreaths for The Royal British Legion and wreaths for the Royal Family at their factory in Richmond.
Getting You Back to Work is The Poppy Factory's employability programme and was set up in 2010 to help more ex-Service men and women with physical disabilities and mental health conditions into sustained employment and make the transition into civilian life a smoother one.
A team of skilled and dedicated Employability Consultants and Volunteer Mentors located across England and Wales offer a comprehensive career management support package to accommodate the professional aspirations of the wounded, injured and sick ex-Service personnel. They provide an invaluable lifeline to those veterans who are the furthest removed from the employment market."