Reports Database:
Impact evaluation and Social Return on Investment Analysis of The Green House therapeutic service for children and young people who have experienced sexual abuse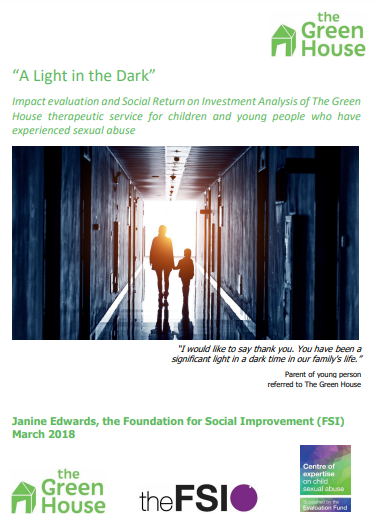 Research shows an estimated 1 in 20 children have experienced some form of sexual abuse and nearly half a million adults in England and Wales are sexually assaulted each year. These experiences cause severe trauma and deep physical, emotional and psychological stress with major implications for children's health, development and life chances. Adverse consequences of sexual abuse can include acute feelings of betrayal, powerlessness, stigmatisation, guilt and traumatic sexualisation as well as difficulties forming and maintaining relationships, mental health related problems resulting from trauma and physical health problems.
Sexual abuse has a far-reaching impact on society as well: child sexual abuse is estimated to cost more than £3.2bn per year, made up of costs relating to mental health and adult physical health problems from alcohol and drug misuse, criminal justice costs, children's social care and loss of productivity to society through unemployment or reduced earnings.
The Green House is Bristol's only provider of specialist therapy for child victims of sexual abuse. They serve families from within Bristol and across the surrounding counties who commit to traveling huge distances to access specialist help, with over half of referrals originating outside of Bristol. The therapeutic support provides a safe place for children and young people to process their experiences and begin to move forward with their lives.
This Impact Evaluation and Social Return on Investment Analysis report explores the wider impact of The Green Children's Therapy Service, which includes therapeutic support to children and young people as well as practical and emotional support sessions for parents and carers. The analysis evaluates the impact and social value delivered in the year 1st April 2016 – 31st March 2017. During this period there were 101 referrals into the service and 27 individuals who started and completed therapy with planned endings during this period.