Reports Database:
KIST: Taoyuan Elementary School KIPP-Inspired School in Taiwan Project. Social Return on Investment (SROI) Evaluation Report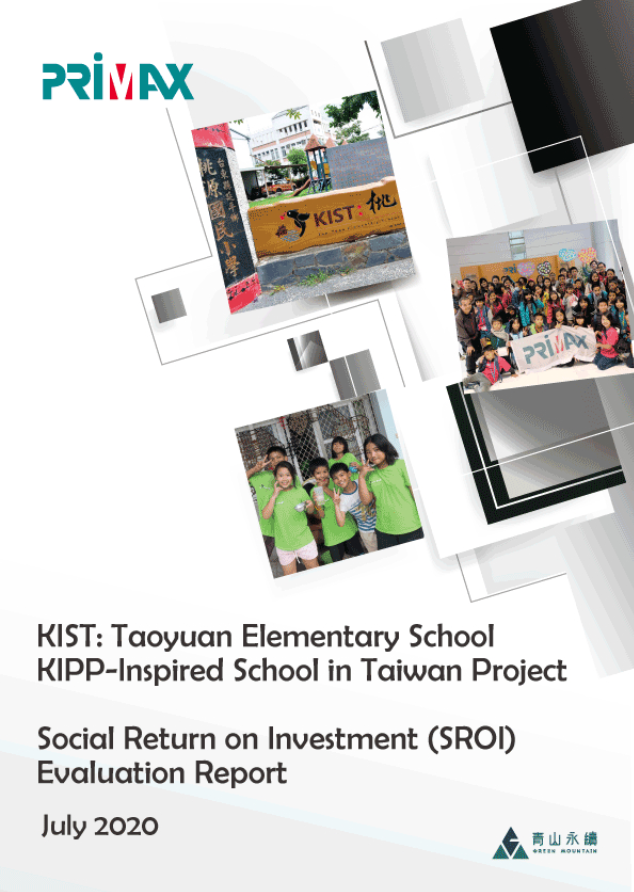 "This research project was compiled and sponsored by PRIMAX Electronics Ltd (hereinafter referred to as PRIMAX), a long-term sponsor of Chengzhi Education Foundation. The main purpose of preparing this report is to use it for internal management and analysis. It is hoped that through the analysis of SROI, the KIST project can be adjusted and optimized to enhance the benefits and impact of the overall project.
The introduction, promotion and management of KIST education methods are integrated with the character education model of KIPP (Knowledge is Power Program) into Taiwan by Chengzhi Education Foundation, using physical schools as the field to realize the ideal of social justice to provide equal learning opportunities for disadvantaged children. In 2017, Chengzhi Education Foundation began to promote private management of public experimental education schools, which is called KIST, KIPP-Inspired School in Taiwan. The main field of this report "Taitung County Taoyuan Elementary School" is one of the schools that introduced KIST teaching methods (hereinafter referred to as Taoyuan Elementary School KIST).
The purpose of the report is to understand the social impact of KIST teaching methods at Taoyuan Elementary School. We used observations, interviews and questionnaires to evaluate the impact and changes of this project activities on relevant stakeholders to optimize this project to expand its influence and social value and benefits."