Reports Database:
Libraries for Life Evaluation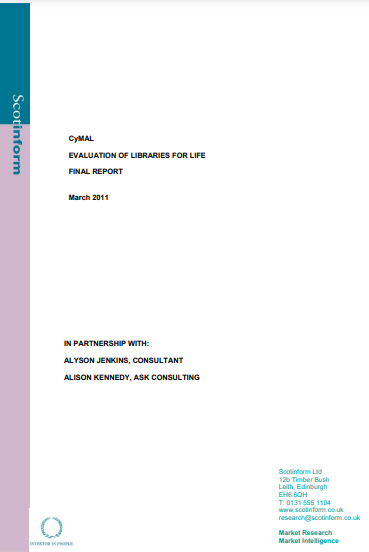 "Libraries for Life (LfL) is the Welsh Assembly Government's (WAG) strategic development programme to improve library and information services in Wales. It is managed and delivered by CyMAL: Museums Archives and Libraries Wales, a policy division of the Welsh Assembly Government. The development of Libraries for Life was informed by the results of the @your library Development Programme 2005-2007, the first official libraries initiative funded by the Welsh Assembly Government and administered through CyMAL.
The LfL strategy recognised the important role that the library sector plays in achieving a number of the key priorities set out by WAG in its One Wales strategy. In addition, libraries were identified as playing a critical role in placing the citizen at the heart of service delivery and contributing to meeting the aims described in the Making the Connections programme (2005) for public service reform and Delivering Beyond Boundaries action plan. LfL has a £10.5 million budget over three years (2008-2011). It uses a mix of all-Wales initiatives, regional activities and local projects to benefit library services: this approach means that the programme can provide targeted activities and support at different levels, ensuring that local and regional needs are met whilst also working to meet national objectives.