Reports Database:
Light Up The Philippines Phase 1 Impact Assessment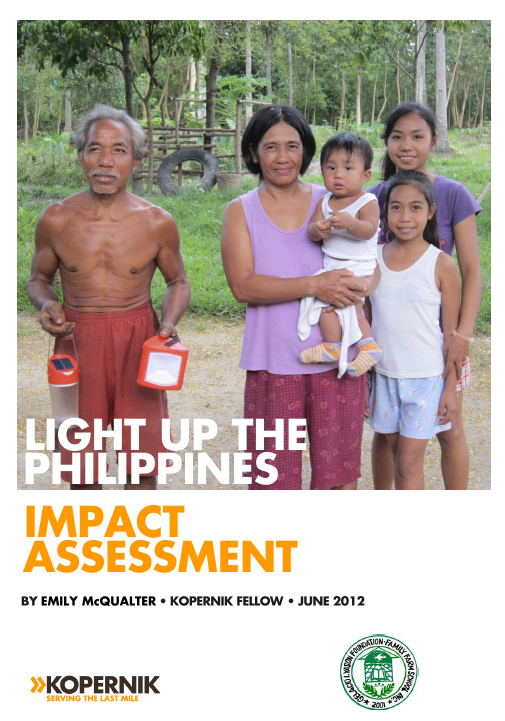 "We connected 408 d.light solar lights with some of the poorest communities in Oriental Mindoro, in the rural Philippines, working with our local partner, the Gelacio I. Yason Foundation Family Farm School Inc (GIYF-FFS). In this region, 80 percent of households have no access to electricity. These off-grid communities are keen to switch from kerosene and candles to a brighter, cheaper, and cleaner light source. In towns the electricity supply is expensive and unreliable, further driving demand for solar lights.
GIYF-FFS received the solar lights in March and April 2012, and sold them through their office, sales agents, product stalls, and during regular family visits. Customers were given the option to pay in installments, but all opted to pay in full at the time of purchase. GIYF-FFS staff who bought solar lights could elect to deduct installments from their salary.
Emily McQualter, a Kopernik fellow conducted an impact assessment of this project. She worked with GIYF-FFS to survey solar light users over one week in June 2012. At that time, 165 d.light solar lights had been sold. Of the 82 people surveyed, 25 lived in off-grid households."