Reports Database:
Measuring Impact of Food Rescue in Aotearoa New Zealand: A Social Return on Investment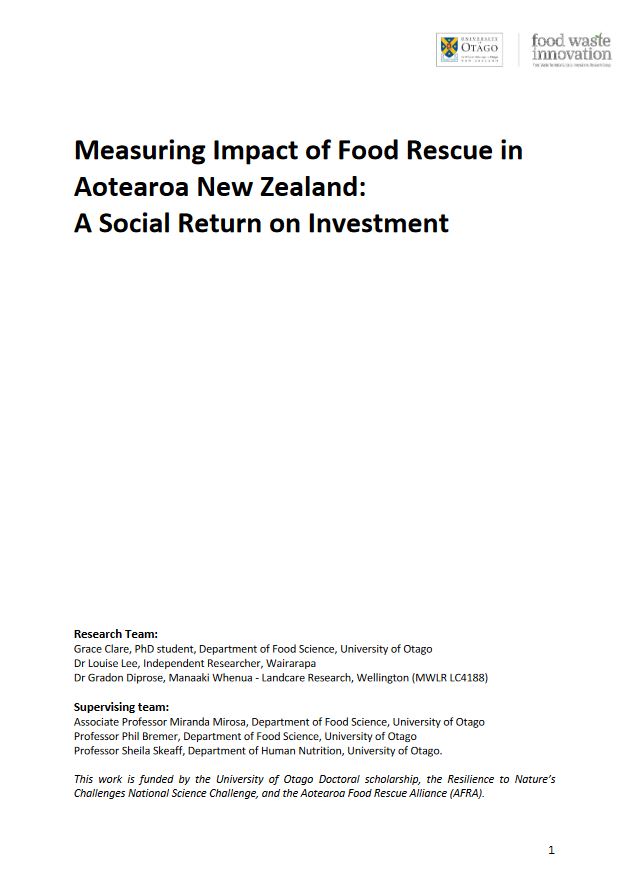 "Over the past decade, food rescue organisations have emerged across Aotearoa New Zealand, responding to two key issues – food insecurity and food waste. Food rescue organisations rescue surplus, good, nutritious food destined for landfills and redistribute it to people in need. Food insecurity and food waste have been longstanding issues in Aotearoa. However, the Covid-19 pandemic disrupted the entire food system, exacerbating these issues. In 2020, the Aotearoa Food Rescue Alliance (AFRA) was established through funding provided by the NZ Ministry of Social Development's Food Secure Communities programme. AFRA is a national body encompassing 23 of Aotearoa New Zealand's major food rescue organisations. Food rescue in Aotearoa New Zealand, predates AFRA, with the first food rescue organisations starting in 2008. However, AFRA was set up in response to issues regarding Covid-19 and ongoing concerns about food insecurity and to provide cohesion and coordination of the sector through capacity building, best practice, collaboration, and advocacy, for an effective food rescue sector.
This Social Return on Investment (SROI) report aims to understand, measure, and value the impact of food rescue in Aotearoa New Zealand. AFRA commissioned the report. It focuses on three case study organisations representing the key food rescue models operating in Aotearoa New Zealand:
• Satisfy Food Rescue (SFR) Christchurch – Community Hub (collects, stores, sorts rescued food. Food is picked up by or delivered to recipient organisations)
• Just Zilch (JZ) Palmerston North – Free Store (collects, stores, and distributes rescued food directly to food recipients via a 'retail store' setting where food recipients select food free of charge)
• Good Neighbour (GN) Tauranga – Mixed model (community hub and additional components, e.g., community kitchen, community gardens).
SROI is a framework that aims to understand, measure, and value the impact of an organisation's activities on various stakeholders. It uses qualitative and quantitative data to tell the story of how change is being created and experienced. Monetary values represent outcomes enabling a ratio of benefits to investment to be calculated, specifying the amount of social, environmental, and economic value created for every $1 invested. The evaluation period for the analysis was the 2020/2021 financial year. This SROI is a forecast analysis, providing a benchmark SROI ratio for future evaluation of food rescue in Aotearoa, New Zealand. It is also the first SROI study to measure and value the impact of multiple food rescue organisations in Aotearoa, New Zealand."