Reports Database:
"Meeting Place: Dialogue" Programme in Russia. Social Return on Investment Analysis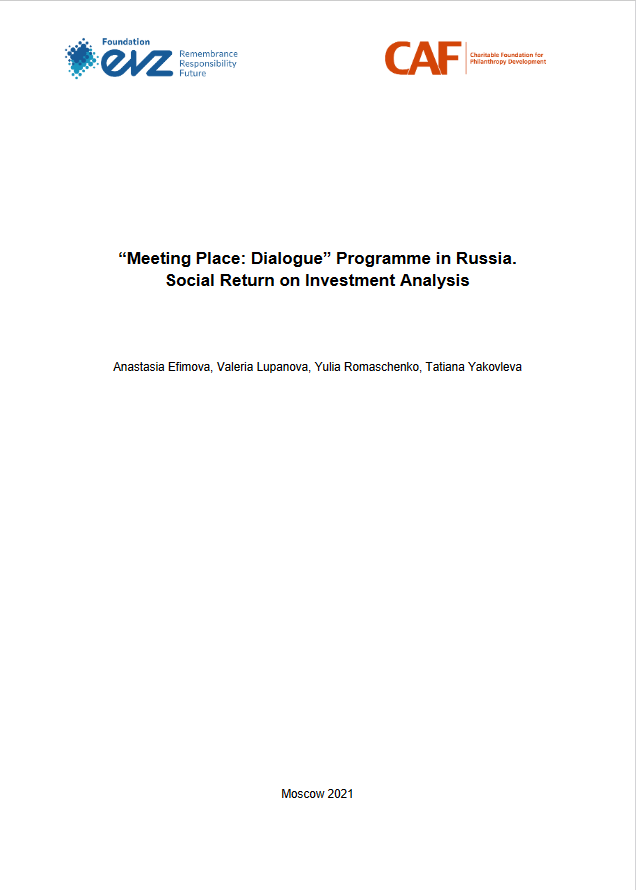 This report describes the process and presents the outcomes, findings and recommendations of an SROI analysis of "Meeting Place: Dialogue" programme (MPDP) implemented by CAF Russia with the support of
EVZ Foundation to support former prisoners and victims of the German national socialist regime in WWII.
The analysis has shown that MPDP creates positive changes for four key stakeholder groups: the older people, their relatives, volunteers and specialists involved in the project. Although potentially relevant negative outcomes were identified for all stakeholder groups within the qualitative stage of data collection, they were not confirmed to be significant to meet the materiality criteria. The SROI ratio of MPDP is 3.55:1, which means that it is effective from the investment point of view and for every ruble invested in the programme, 3.55 rubles worth of social and economic outcomes is created for its stakeholders. The outcomes for older people account for 81% of the overall value of programme outcomes, outcomes for relatives – for 10%, and outcomes for volunteers and specialists for 6% and 3% respectively.