Reports Database:
Scotia Clubhouse SROI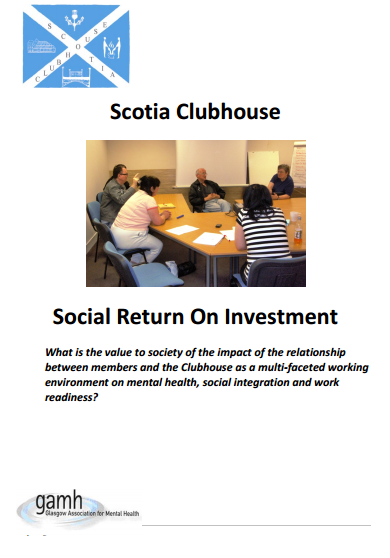 The Scotia Clubhouse is part of the worldwide movement of 'Clubhouses' offering an important different way for people who suffer with severe and enduring mental health problems to contribute and engage with the world. Scotia is more than a "service" for this group of people. It provides an accepting environment which is to all intents and purposes a physical work place. People who access Scotia become its members and they are responsible for the operation of the Clubhouse. Staff are also members and there is a deliberate blurring of the boundaries between staff and other members. Areas of work include a cafe, learning activities, administration, finance and care for other members. There are deliberately not enough staff for the project to run, thus members have to be the main workforce, with staff being mainly facilitators. There
is an active membership of around 160 people at any one time.
Scotia is set in the heart of the East End of Glasgow where the assumption is commonly held that the hope of employment is scarce for most people. It quickly became apparent during the course of this study that Scotia's culture is one of hope in a difficult environment.
Moreover, the facts indicate that Scotia is actually successful in placing people in work situations and helping people gain employment. This SROI study focuses on measuring 'the value to society of the impact of the relationship between members and the Clubhouse as a multi-faceted working environment on mental health, social integration and work readiness.' The study was conducted between April – November 2010. The research explored the story of change as experienced by members, using in depth one to one semi-structured interviews. The following key findings are evidenced by this work:
There are significant improvements in the quality of relationships for members that last a long time. This improves and contributes to mental health recovery through maintaining members confidence and self esteem and was highly valued by members.
A sense of regular place (workplace) is key to the impact of re-accessing skills and mental health recovery. Members use Scotia to practice the more subtle arts of workplace survival and thriving, such as developing
team working, cooperative working and social competence. Without these skills, most prospective employees do not prosper.
The longer term nature of Scotia membership is important to ongoing mental health. Mental health recovery is not a uniform upward curve. There are dips and set backs along the way. Scotia is there for members at these times, providing a safety net that is as valuable to members as it is to the state in preventing resource draining relapse into poor mental health, with all the associated implications.
Scotia is by far the main contributor to change in members lives. The concept of attribution of credit for change is a key SROI technique and this study measured this thoroughly, with the above result.
The model of facilitated peer support consistently came out as a valued experience in members mental health recovery. Highly valued by members was the sense of self esteem and self worth they felt as a result of
feeling needed by Scotia and other members within it. This is a unique finding. Most other services provide support to people, rather than facilitate people to sup-port each other. Making members responsible for aspect of Scotia's operation was also key to this.
The total present value of Scotia Clubhouse is calculated as £1,621,891 over five years. The total invested to generate the total present value was £301,197 per year invested in the main by the Mental Health Partnership. Therefore the net present value is £1,320,694.The SROI index value is that for every £1 spend on this project our society gets back £5.38 in a variety of ways.