Reports Database:
Self-Care Social Prescribing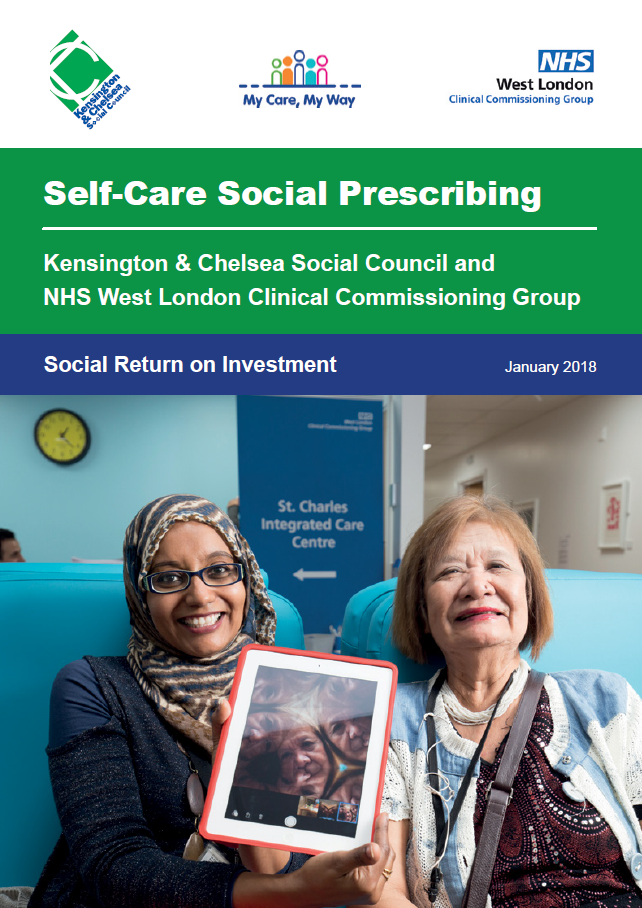 Health and social care services in North and West London are building positive new models of cross-sector working to make better use of joined-up resources. Such cultural and operational change is needed to improve choices available for patients, and to support professionals to go beyond the medical model alone. The status quo is not sustainable, given our ageing population and the growing prevalence of long-term life limiting illnesses.
In West London, a frail older patient can take up an average of 30 GP practice visits per year, over 12 days in hospital per spell, and 8 visits to outpatient clinics annually. Many older patients are at risk of being increasingly isolated, housebound, and are suffering from poor social and emotional wellbeing. This further amplifies the problems with their existing health conditions and can lead to more rapid deterioration. However, treating such non-medical drivers of poor health and wellbeing are not the conventional domain of doctors, nurses, and other clinical professionals.
The Self-Care social prescribing model enables GP practice staff to refer patients with a nonmedical health and wellbeing need onto appropriate specialist services from the voluntary and community sector (VCS). Patients are provided with a personal consultation with a Case Manager or Heath and Social Care Assistant at their GP practice, to identify their needs, interests, and goals. One option available is for the patient to be prescribed a service on the Self-Care directory.
Patients are contacted by the service provider within a week to arrange their sessions and work on their progression. The general aim of Self-Care is to increase patient confidence in making informed decisions about their health, and increase lifestyle changes and new healthy habits, through accessing more community-based support sessions. The Self-Care social prescribing model has led to reduced avoidable need for hospitalisations, reduced need for GP practice hours, and reduced levels of physical pain and depression for patients.
This Self-Care social prescribing model and directory of services is managed by Kensington and Chelsea Social Council (KCSC) on behalf of West London Clinical Commissioning Group (WLCCG). The model forms part of WLCCG's integrated 'My Care, My Way' (MCMW) programme, which places over-65s at the heart of a personalised and holistic care and support plan. Envoy Partnership were commissioned to conduct research to evaluate the impact of this model and include a Social Return on Investment (SROI) analysis. This is detailed comprehensively in the main report, which describes the total SROI value created when compared with the annual contract budget of £250,000. The results are as follows:
£2.80 of social value created per £1 invested