Reports Database:
Social Return on Investment for the Vineburgh Regeneration Initiative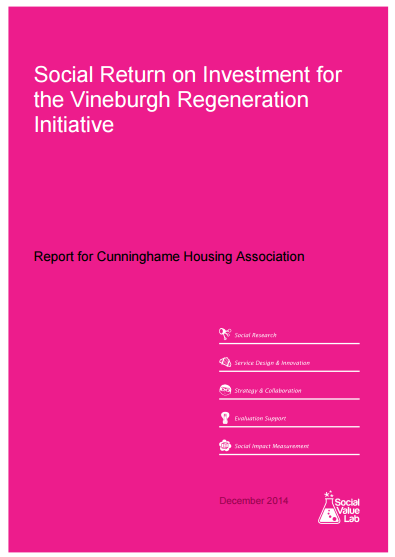 The redevelopment of Vineburgh is a 5 year, £33.3 million project to tackle the high level of deprivation and low demand in the Vineburgh area in Irvine – manifesting in significant void levels and accumulation of social issues.
On 27th June 2007 North Ayrshire Council formally adopted the Vineburgh Regeneration Masterplan, which details the vision for the new Vineburgh.
This plan included the demolition of 306 properties in Fleming Terrace, Meadow Avenue, Old Caley Road, Queen Road and parts of Vineburgh Avenue and Wallace Road and replacing them with a mixture of social rented housing and private ownership. CHA was appointed Lead Developer for this project and appointed MAST Architects to design the new houses. Local construction company Ashleigh (Scotland) Ltd was contracted to build the houses.