Reports Database:
Take a Load Off Oecusse Impact Assessment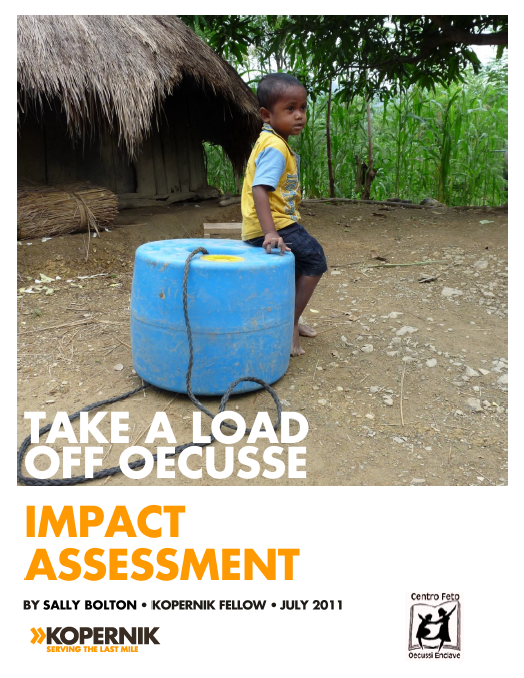 "Kopernik connected Q Drums with 30 families in Oecusse, working with a local partner, Centro Feto Enclave Oecusse (CFEO). Kopernik Fellows Michael Woon (October 2010 – January 2011) and Sally Bolton (January – June 2011) conducted the impact assessment.
Oecusse is an isolated enclave on the north coast of Timor, bordered by the Indonesian territory of West Timor. Approximately 45 percent of Oecusse's population of 64,000 live below the poverty line. Almost every household in the enclave reports that there is at least one month each year when they do not have enough food to eat.
In January 2011, Centro Feto staff interviewed all of the 30 people who had purchased a Q Drum to create a baseline. They returned to conduct follow up surveys with each person after they had been using the Q Drum for one and a half to two months. People paid US$10 for a Q Drum, in four monthly instalments of US$2.50. The families who bought Q Drums live on around US$2 per day on average.
The Q-Drum is a rollable water drum designed to ease the daily burden of collecting water. The durable, donut-shaped plastic container has a capacity of 50 litres (13 gallons)."