Reports Database:
Thread 2016 Impact Report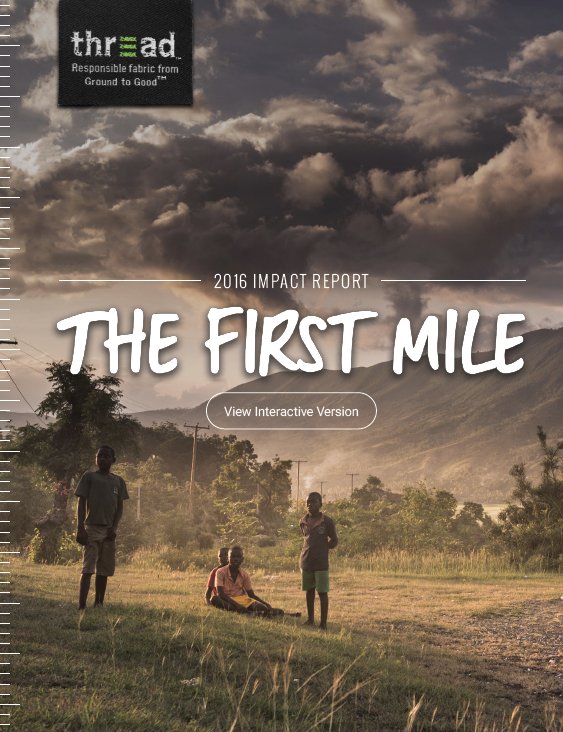 "Thread builds responsible, transparent supply chains from Ground to Good™. We invest heavily in the first mile of our supply chains – the individuals and areas where plastic bottles are picked up from the ground. The first mile of supply chains is an area often ignored and as a result, this portion of supply chains tend to cause ecological and human harm.
A recently released McKinsey report (see fig. 1) showed that supply chains are responsible for more than 90% of the environmental impact of products, leaving less than 10% of direct environmental impact in the hands of consumers.
Thread has also found that enormous opportunity for social impact exists in the first mile of supply chains. Often, the work at this stage is informal, unregulated, and difficult to monitor. The individuals involved are constantly evolving, making it difficult to track exactly who is responsible for the collection of raw materials. While there is a movement among apparel brands to become increasingly transparent and publicly list their suppliers, many brands are only able to list their tier 1 and maybe tier 2 suppliers. The places where goods are cut and sewn, or perhaps where the fabric is finished.
Textile supply chains are long and complicated. Before a fabric is finished, it must go through several processing steps and vendors who extrude, spin, knit and weave fibers together before it is dyed and finished. At Thread, we are proud to not only publicly list every vendor we work with to create our fabric, but the individuals who pick up the bottles that make our fabric as well. Until this level of transparency is commonplace, and this understanding of the first mile of supply chains ubiquitous across industries, social and environmental harm will continue. We cannot fix what we don't know. It is time for us to know."