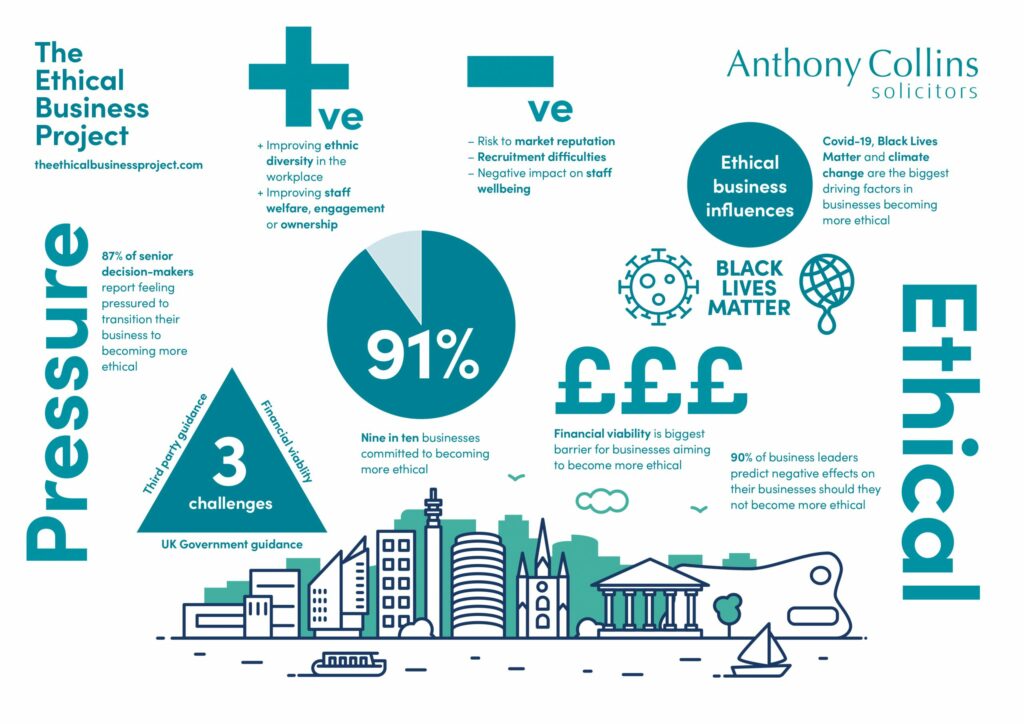 Posted 18th March 2021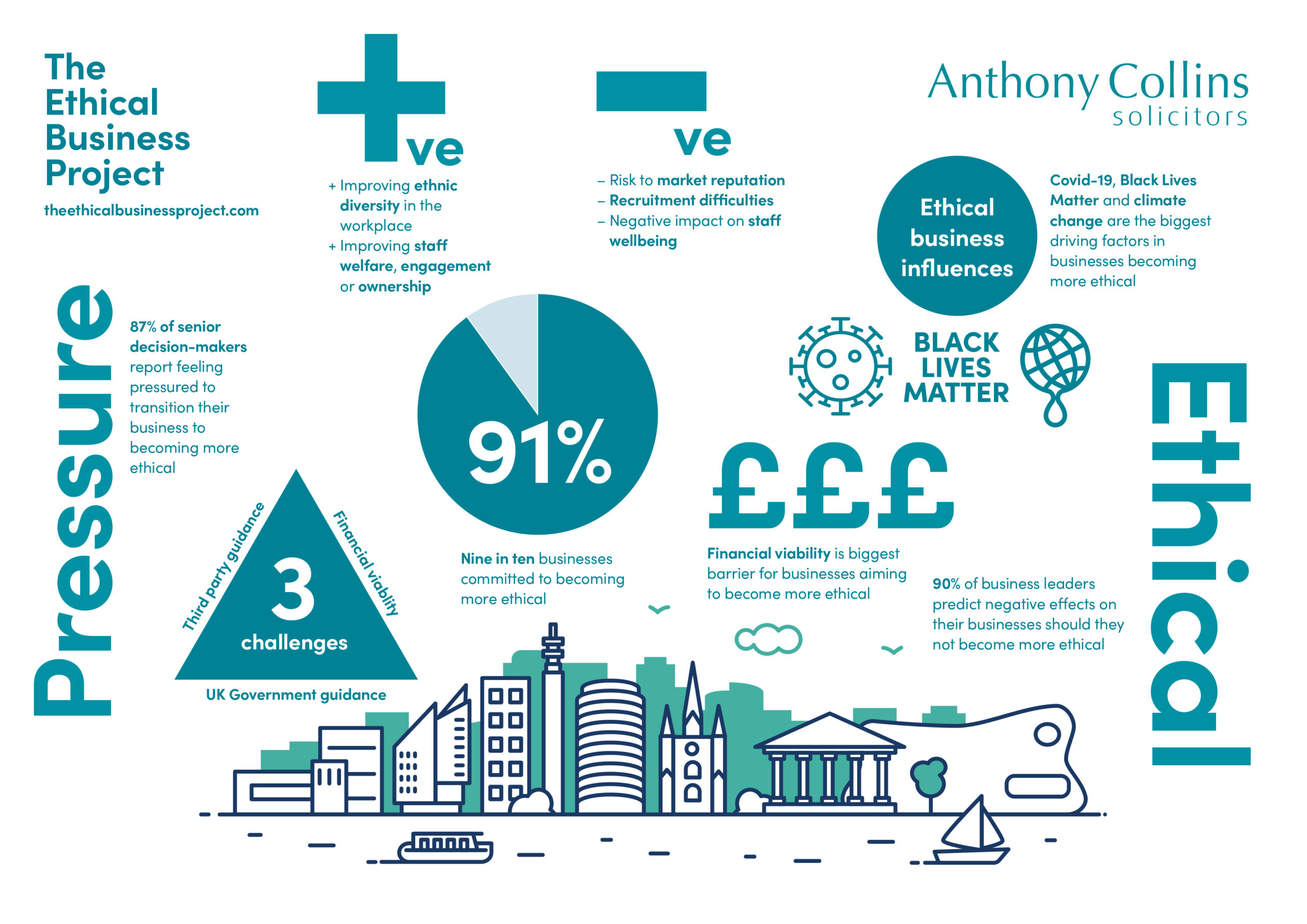 Opinium poll shows 91% of UK businesses committed to becoming more ethical
Covid-19, climate crisis and Black Lives Matter increasing pressure to change
Business leaders admit risk to market reputation and financial results are main dangers of not demonstrating positive values, with 90% predicting a negative impact
Nine in 10 UK businesses are on the journey to becoming more ethical as a result of growing pressure to operate in a way that benefits society, according to a new poll released today (Thursday 18 March 2021).
The new research conducted by Opinium revealed a profound shift in how UK businesses are operating, with 91% of businesses surveyed either already adopting ethical practices, or committing to becoming more ethical.
The Covid-19 pandemic and climate change were identified as key drivers of this change, increasing pressure on 78% of businesses to demonstrate more positive values. Over half of the business leaders surveyed (65%) stated that the Black Lives Matter movement was having a similar effect.
Reputation is greatest commercial fear driving change
Risk to market reputation was revealed as the main concern (45%) for leaders should their business not take steps towards addressing the treatment of staff, suppliers and customers, as well as their impact on the environment and society. This was followed by recruitment difficulties (36%) with a third (33%) also forecasting a negative financial impact.
These findings show a heightened awareness amongst business leaders about the commercial implications of not becoming more ethical – leaving companies open to public and legal scrutiny. A total of 90% predicted a negative impact on their business as a result of not prioritising ethical factors such as the environment or equality in the workplace.
Most common ways UK businesses are changing for the better
At the top of business leaders' ethical agenda is staff, with a third sharing plans to either address the ethnic (38%) or gender diversity (33%) of their workforce. A similar number (36%) were aiming to improve staff welfare, engagement or employee ownership.
Tackling climate change and environmental sustainability was another common way (36%) businesses are showing positive change, compared to lower number of business leaders seen to be prioritising charitable causes (27%) or increasing customer transparency (25%).
The research, commissioned by Anthony Collins Solicitors, defined an ethical business as making 'a conscious effort to ensure that its operations are positive, contributing to the long-term wellbeing of individuals, communities and society'.
The national law firm initiated the research as part of a new campaign, called The Ethical Business Project, investigating the journey to becoming a values-led business in the UK.
Speaking on the research, David Alcock, partner and social business lead at Anthony Collins Solicitors, said:
"UK businesses are under more scrutiny than ever when it comes to good business practice. The human and economic disruption of Covid-19, combined with an escalating climate crisis and focus on social inequalities have put businesses of all sizes under the microscope.
"This new research reveals that businesses are responding, with nine in 10 either already on the journey or committing to delivering positive social impact. This change is seeing businesses address ethics across their entire organisation, spanning employment and recruitment practices, through to their environmental approach and wider supply chain.
"Businesses have a huge opportunity to embrace this journey towards social purpose. The aim of The Ethical Business Project is to show that doing business well and meeting the needs of people, society and the planet are not mutually exclusive, but inextricably linked."
Barriers to becoming more ethical
Despite UK businesses showing a clear ambition to become more ethical, barriers remain for those looking to make the transition.
Nearly two in five (38%) leaders admitted that it was financially unviable for their business to make changes to increase their social impact. A lack of support and guidance was also seen as a major factor, with businesses pointing to a lack of guidance from the UK Government (36%) or other advisers, including law firms (28%).
Anthony Collins Solicitors' full research findings are included in The Ethical Business Project: A handbook for UK businesses.
Social Value UK are a part of the How Do Companies Act? Campaign and coalition looking to improve and update the business environment in the UK.