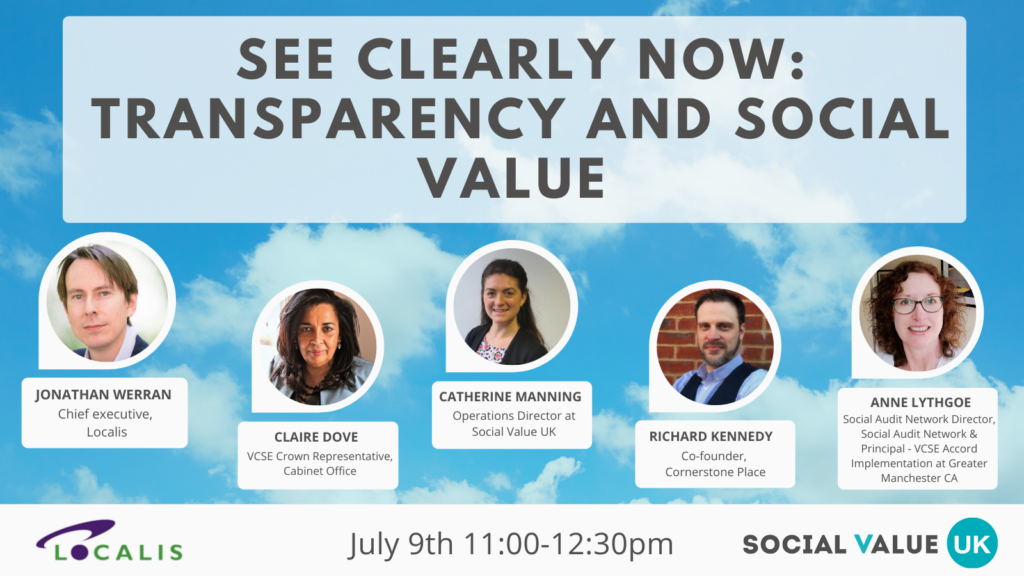 Posted 19th August 2021
Localis and Social Value UK have a shared interest in defining and promoting transparency as a core aspect of social value. Particularly in the context of increasing visibility and use of social value in public sector commissioning and procurement, and the launch of The Green Paper for Transforming Public Procurement which sets out to promote value and transparency at the expense of red-tape, defining what good looks like in transparency is of utmost importance.
Isolating transparency as a precursor to better practice development across all forms of local public commissioning and social value practice, we believe there should be a shared understanding of what good transparency means in these contexts. We also believe that perfecting this in the context of social value will be a journey rather than a one-time, big-bang effort, so collective learning is paramount.
In July 2021, we held a collaborative event to explore ideas of transparency, share what is currently being done to action transparency within social value practice, and debate what good looks like currently and what more we can do.
The event consisted of a panel discussion with knowledge and expertise shared from panelists Claire Dove CBE, VCSE Crown Representative, Cabinet Office, Richard Kennedy, Co-founder, Cornerstone Place, Anne Lythgoe, Social Audit Network Director, Greater Manchester Combined Authority, Catherine Manning, Operations Director, Social Value UK, and facilitated by Jonathan Werran, CEO Localis. This was then followed by group discussions sharing ideas and practice from attendees.
Here in this blog we share some of the key learnings from the panel.
---
What is transparency?
The discussions raised points around what Transparency actually is and what it means.
'Transparency is something that has always been important, it's important in business, it's important in your accounts, when you disclose contingent liabilities and all of that sort of stuff.' (Richard Kennedy)
In local government transparency has a specific definition 'around transparency reporting, legal structures, governances, quality control and assurance, and employment practice, accounting, etc.' (Anne Lythgoe)
In the Social Value Principles, 'Be Transparent' is Principle 6, and for SVUK and SVI, therefore a central tenet of social value. 'It's about demonstrating the basis on which an analysis can be considered accurate and honest and the way in which it's reported' (Richard Kennedy). The SVI definition is:
'Demonstrate the basis on which the analysis may be considered accurate and honest, and show that it will be reported to and discussed with stakeholders.
This principle requires that each decision is explained and documented in relation to: stakeholders, outcomes, indicators and benchmarks; the sources and methods of information collection; the different scenarios considered; and the communication of the results to stakeholders. This will include an account of how those responsible for the activity will change the activity as a result of the analysis. The analysis will be more credible when the reasons for the decisions are transparent.'
---
The panel explored some key points on what transparency is:
Transparency is about responsibility, clarity of roles and clarity of governance
For social value creation, there is need for consultation, and openness and transparency of operations.
'I have a national advisory group, and besides all of you being able to be part of the consultation, this group have sat down with the policy people in government to ensure that there is openness and transparency to what we do.' (Claire Dove)
Government, and other stakeholders throughout delivery, must take responsibility for social value.
'I work in local government and with a lot of the work that we do around procurement and commissioning … we take responsibility for social value, and we use tools that track social value through procurement.' (Anne Lythgoe)
'There is a need for individual organisations to take some responsibility for accountability as well, and this …is exactly where social enterprises, voluntary communities, sector organisations, co-ops, etc. come through so strongly – because of their values.' (Anne Lythgoe)
Transparency is about honesty, and building trust:
Public trust has been damaged pre crisis, with things such as the breakdown of Carillion, as well as during the crisis. For example, a recent 'Transparency International report states that there is £3.5-4bn worth of Covid support contracts that award merit for further investigation – and it's these sorts of things that are undermining the public trust'. (Catherine Manning)
These challenges should and have led to changes. 'The biggest change in government was the earthquake when Carillion went bust. They didn't expect it, they held major government contracts, and it was the spiral into SMEs, apprenticeships, and all the people that were then impacted by this.' (Claire Dove)
Transparency in operations, and decision making, is 'central to building trust, not just in social value, but in terms of public trust in the decisions that are being made more broadly.' (Catherine Manning)
This has to come from honesty, which then needs to be verified. 'At the start of the pandemic … I saw all these applications coming in and a lot of them would say 'we work with the black community', they worked with everyone and we knew that wasn't true at the end of the day' (Claire Dove). If there are doubts the process needs to allow for these to be checked and verified, and this should feed into what is measured. As Claire said 'How do we measure? How do we validate what people are saying is true?'
Transparency leads to accountability
Transparency is key for accountability but 'just having transparency doesn't immediately lead to accountability … we need to have the practice and structures in place to ensure that accountability actually happens.' (Catherine Manning)
---
Recent Developments and Learnings from current practice:
There have been some exciting developments in social value , and some important learnings from current practice.
In the Transforming Public Sector Procurement Green Paper, there's a big focus on value and on transparency. There has also been the launch of the Construction Playbook, updates to the Sourcing Playbook in May 2021 and the associated Consultancy Playbook, and updates to the Green Book, which has included a real softening towards social value with 476 mentions of value throughout.
'You will see the golden threads going through and you will see all our outsourcing playbooks now will have social value in it because if it's not in it, we pretend it's not there. If it's in it, then we can hold people to account.' (Claire Dove)
There have been international developments too, we've seen that European Commission has launched their own new guide on public procurement: Buying Social – a guide to taking account of social considerations in public procurement (2nd edition) and EEC's update of the innovation guidance: Guidance on Innovation Procurement
This brings into focus all of public spending, and how this is engaging with a diversified supplier base, which is the biggest opportunity for the VCSE sector (Claire Dove). It also offers opportunity through developing practice and areas of learning:
Different weightings in SV tenders:
The Central Government Social Value Model and PPN 06/20 mandate a minimum 10% weighting for social value in tenders (with some exceptions). Across local government different weightings are being applied, and more flexibility brings social value potential. Greater Manchester is applying a 20% weighting. Other areas are applying more flexible weightings 'dependent on the contract and what you want to do.' (Claire Dove).
Opening up opportunities to the VCSE sector:
Engaging with VCSE, local and smaller organisations are key aspects of the Social Value Act, as well as the newer developments in public sector procurement like the Transforming Public Sector Procurement Green Paper. This is imperative for more local engagement, co-creation, and getting more socially and environmentally out of delivery.
Move from 'acknowledge' to 'report':
The move from 'acknowledging' social value to 'reporting' on social value is significant, and a big achievement. But the reporting does need to take place and should be emulated through the supply chain, but also at Government level. 'We in government will have to publish what happens in relation to social value, and I'm adamant that we will do our social and environmental impact report about what's happened' (Claire Dove)
Once this is done there is also the need to hold organisations accountable for what is reported.
Greater need for verification, assurance or audit:
Some reporting using different tools is beginning to take place. 'But maybe that's not even enough because some of the tools and some of the reporting that goes on, I think there's gaming in there, I think there's also a little bit of spin in reports… If we're truly going to have transparency, on the finance side you have financial audits, on the social value side, really, we need social audit to mean that some of that reporting is true, it's reliable, it complies with principles'. (Anne Lythgoe)
'The Voluntary and Community Social Enterprise sector's leading the way in this. Social Audit network, works with the social economy, we've got some brilliant examples of social enterprises who are reporting consistently, robustly and reliably on their social value.' (Anne Lythgoe)
And post audit there is the need for consequences based on the findings, both positive and negative.
Capacity building, training and development:
To develop better practice on social value , there is a need for capacity building. Government have recognised this and are looking to how we ensure that we train and educate our people. 'In government we've trained 4,000 of our procurement staff on social value.' (Claire Dove)
---
What else can we do?
The panel also shared ideas on what next needs to happen to continue to develop better transparency, and ultimately better public service delivery.
Support diversification and engagement in supply chains by:
Move from engaging with the market to co-creation with the market – 'policymakers need to do more than just make policies, they actually need to look at the market, and work with the market, engage with the market, and help the market that they want.' (Anne Lythgoe)
Support organisations to be more transparent and meet standards that are set – 'support the SMEs, the social enterprises, etc. that we might want in our supply chains, to be able to be more transparent in themselves.' (Anne Lythgoe)
Help organisations to work together and build consortia – aim for equal partnerships, and greater value through collaboration in larger contracts
Focus on engaging communities in defining need:
Getting people involved even in defining frameworks – 'The other part of this is about how do you co-create? Does government or local authorities always know what's best for communities? Isn't it that they should be working with them to co-create that works?' (Claire Dove)
Look at where the metrics are coming from, and who is defining these: We need to be looking at, not just that some things have been measured, but actually where are those metrics coming from? How are we defining the data? 'How are we saying that those are the right things to be measured for us to then be saying 'well that's what shows that social value is actually being created, or not created and therefore needs to be managed within a particular contractual situation'. (Catherine Manning). For the Social Value Principles, Involve Stakeholders is Principle 1, which means we need to be defining the need directly with the communities experiencing the challenges, but they should also be feeding in to what is delivered, and what is measured as success.
Develop better social value Contract management: Social Value is being used more and more as a lever for procurement, with bids being won in part on the strength of their social value claims.
We need to 'make those things become more transparent and make sure that the social value that is sold, in inverted commas, in contracts is actually delivered through the process and it's not just about winning business; it's about delivering that social value over the longer-term, to embed that value in the communities where these contracts are delivered.' (Richard Kennedy)
The desire to prove value at the beginning to win the business needs to be backed up with 'contract management practice in place with people having the capacity and the capability to be able to check what's actually happening as that contract's being delivered and there being the practice in place to be able to implement consequences where there are issues that arise.' (Catherine Manning)
Embed Transparency, contract management and accountability throughout the process:
'If you don't apply social value at the start, you will pay for some of these services in other ways down the line.' (Claire Dove) Embedding social value from the start is imperative to give the impetus and the impact that is needed. So it needs to be there at every stage:
in defining need: there needs to be transparency in what the contracting body is looking for, and how those priorities have been defined. It is making sure that in defining the need, the local community in asking 'what is it that this area needs most?' and those are the things that should be going in the social value element.
in bidders defining their response: for the bidders there needs to be transparency in how they've defined the social value that they're delivering; what methodology have they used? How are they going to measure that? How have they defined it? Is it just a tix box exercise or have they really done a decent piece of work about how they're going to deliver those outcomes?
during contract: during the contract, an audit or assurance of the social value that's being created or not created during that contract.
'So, you've won a contract in a transparent way because you've got some outcomes that have been put in the contract because that's what the local community need, the bid has then been successful because they've said, 'we're going to deliver XYZ, and this is how we've demonstrated that we're being transparent in how we do that' and then in the contract execution actually showing that you do actually deliver on those social impacts.' (Richard Kennedy)
Aim for continuous learning by transparently sharing practice (good and bad):
To continue to move forwards for the whole movement, we need to more sharing about the different practice that's going on. Transparency is central to us developing a better understanding of good and bad practice, to develop standards of practice, and to develop better pathways to improvement.
---
What next?
To continue to develop together as a community, Localis and SVUK are cohosting 2 more webinars discussing transparency, social value and public sector procurement practice:
Find a full transcript of the See Clearly Now: panel discussion HERE