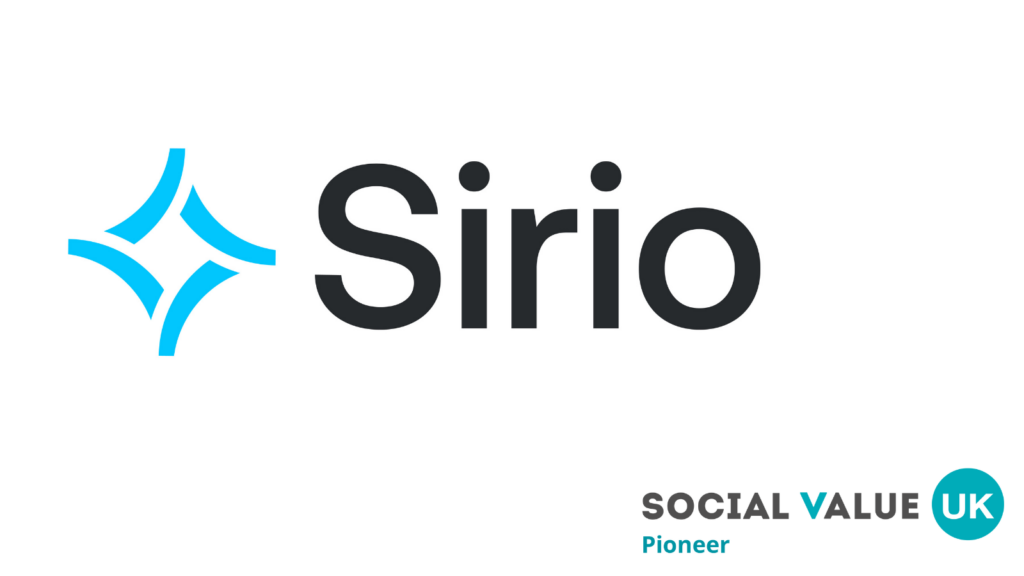 Posted 8th April 2022
Social Value UK is proud to announce Sirio as a Social Value Pioneer! Ahead of their joining, Social Value UK spoke to them about their social value journey so far.
Sirio is a specialist consulting firm operating at the intersection of consumers, regulation and utilities. They advise utility and infrastructure companies in developing business strategies, investment plans and projects that maximise value for all stakeholders. They specialise in:
Stakeholder-driven decision making;
Consumer vulnerability; and
Social value measurement.
Why do you think social value is important? In your organisation, your industry or in wider society?
Social value measurement is one of our primary areas of focus as we work alongside our clients to ensure the energy system works for everyone, regardless of their ability and opportunities. In doing so, we support our clients and their partners to measure the social value delivered by their actions, initiatives and investments. Measuring and forecasting their social impact allows them to make well-informed and inclusive business decisions and to paint a comprehensive picture of the benefits they generate for the communities they serve.
Does your organisation have a background in social value/social accounting/SROI?
We work with our clients and their partners to gather evidence of any impact their activities and investment have had on society. Applying cutting edge valuation techniques to this evidence, we quantify the immediate and long-term social value delivered by our clients. We also embed social value measurement approaches within our clients' decision-making processes to ensure they can consider broader externalities in all key projects and investment decisions.
What are your plans for your SVUK membership?
We plan to be an active member as we work alongside SVUK and other members to increase the accounting, measuring and managing of social value from the perspective of those affected by an organisation's activities. Through doing so, we intend on embedding Social Value Principles in the analyses we perform for our clients to usher continuous improvement in this space. We also intend to enrol 100% of our employees in the Online Social Value & SROI Practitioner Training as part of our on boarding process.
"Sirio is thrilled to be joining Social Value UK as an organisational member. Given our focus and commitment to excellence in the area of social value measurement, this is a seamless and natural partnership. Social value measurement is a central pillar of Sirio – both internally and as an offering to our clients in the energy & utilities space. We look forward to continuing to embed best in class approaches to quantify the social value delivered by our clients to ensure they consider broader externalities in all key investment decisions."
For more information please reach out to [email protected] and [email protected]
Posted 8th April 2022