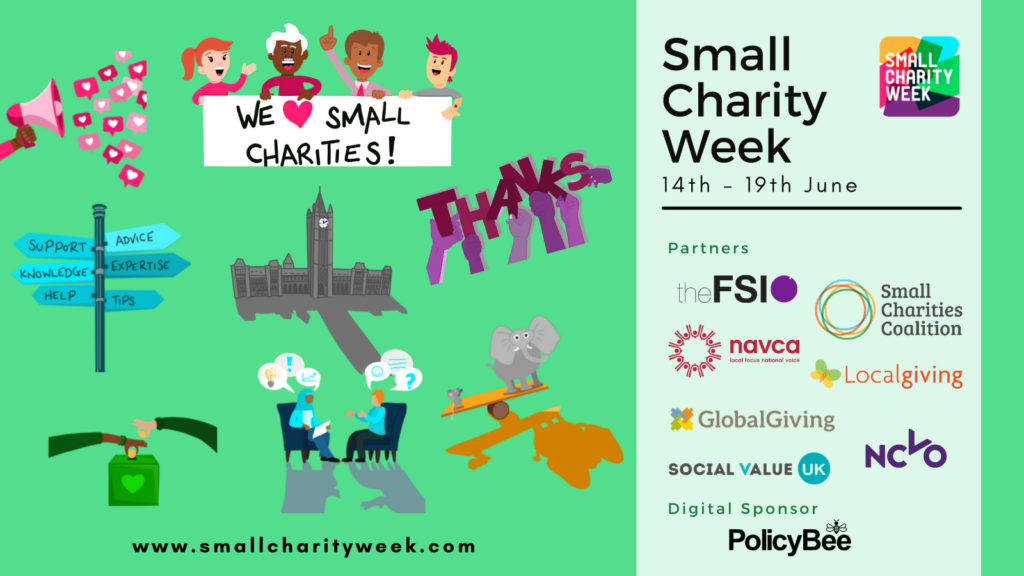 Posted 11th May 2021
Social Value UK are delighted to be working alongside colleagues at the Foundation for Social Improvement to deliver Small Charity Week from the 14th – 19th June 2021. We will be joining forces with the Small Charities Coalition, NCVO, NAVCA, Local Giving and digital sponsor PolicyBee to really celebrate and explore the value of small.
On Friday 18th June SVUK will be running a couple of webinars and taking part in a Q&A panel as part of 'Small Charity Big Impact' day – but most importantly we'll be shouting all over social media about the amazing impact of small charities. We want you to take this opportunity to share the impact we know you've been delivering over the last year. You only need to upload a few words or a short video onto any of the platforms below and not only will you get some much-needed PR but could win a cash donation to your charity as well!
How it works: Simply take a photo or record a short (10-20 second) video highlighting the amazing impact you made over the past 12 months. Post it on social media using the hashtag #SmallCharityBigImpactDay. Let's get it trending! We encourage you to motivate your supporters to post or on your behalf too.
Posting on Twitter? Include @SCweek2021
Posting on Instagram? Include #smallcharityweek
Posting on Facebook? Post your photo message to the Small Charity Week Facebook wall
Social Value UK, The FSI, and PolicyBee will be reviewing social media over the day (Twitter/ Facebook/ Instagram), tracking the organisations supporting the day using the #SmallCharityBigImpactDay hashtag – with £50 donations are up for grabs for the most eye-catching posts!
Good Luck and do get involved!
The Social Value UK Team