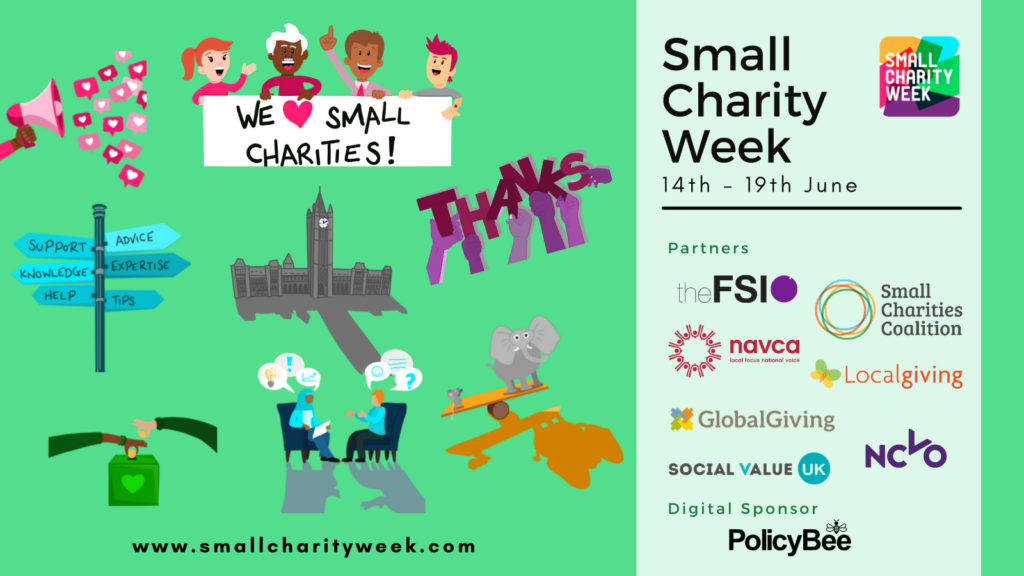 Posted 16th June 2021
As many of you know, this week is #SmallCharityWeek ! We are so excited to be hosting the final day of this event – #SmallCharityBigImpact day on Friday 18th June. The day will consist of social media competitions, learning webinars and live Q&A panels.
Here is quick a rundown of the day:
09:30 – 10:30: Know your value: From outcomes, to impact, to Social Value (Social Value UK): It's all social but what are the differences between outcomes, impact and value? We'll run through a short presentation looking at the different definitions and what they mean for the work of small charities. There will then be the opportunity for questions and conversation.
11:00 – 11:45: Who said only the big are mighty? Making an impact as a small charity (Eden Tree): Who said only the big are mighty? As a boutique investment manager that leads the way in responsible and sustainable investing we know that not to be true. We work with charities of all sizes to invest to make a difference, with a minimum investment of just £1,000. Join David Katimbo-Mugwanya, Senior Fixed Interest Fund Manager, for a workshop on how to achieve social impact through your investments, however small.
14:30 – 15:30: Gathering wellbeing data, different methods and making it meaningful (Social Value UK): Most of us are trying to improve wellbeing one way or another. In this session we'll take a look at some of the wellbeing measures out there and some ways of capturing wellbeing data more creatively too. We'll have a bit of presentation then a chance to discuss the pros & cons of different methods and what we think generates the most meaningful data. 03
As part of the day we are running a competition, over on Twitter, to showcase the hard work small charities have been putting in over the last year! Make sure to enter, it is quick and easy and the winner will receive a cash donation for their cause!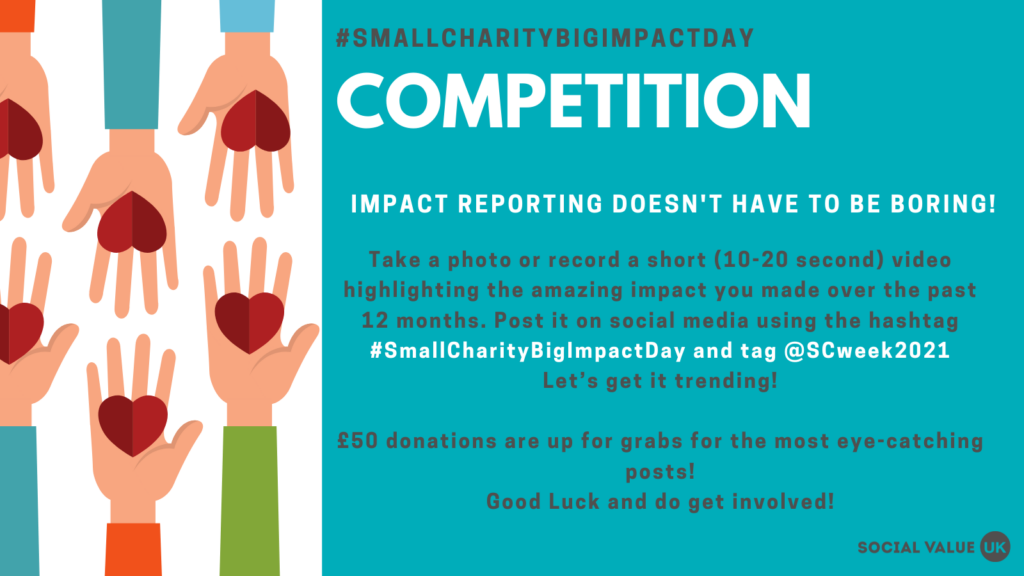 Do get involved, we can't wait to see our Civil Society members for plenty of discussion!
See you then,
The Social Value UK Team