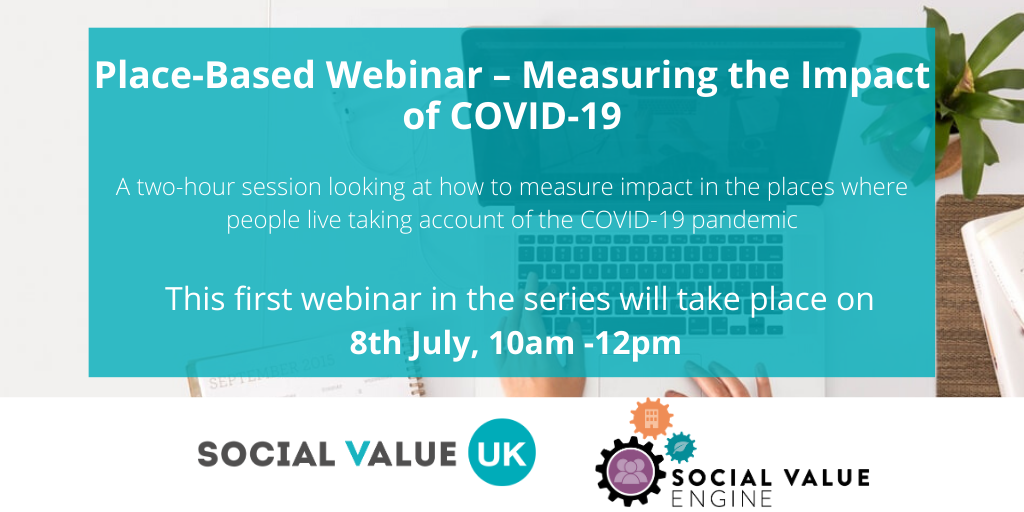 Posted 11th June 2020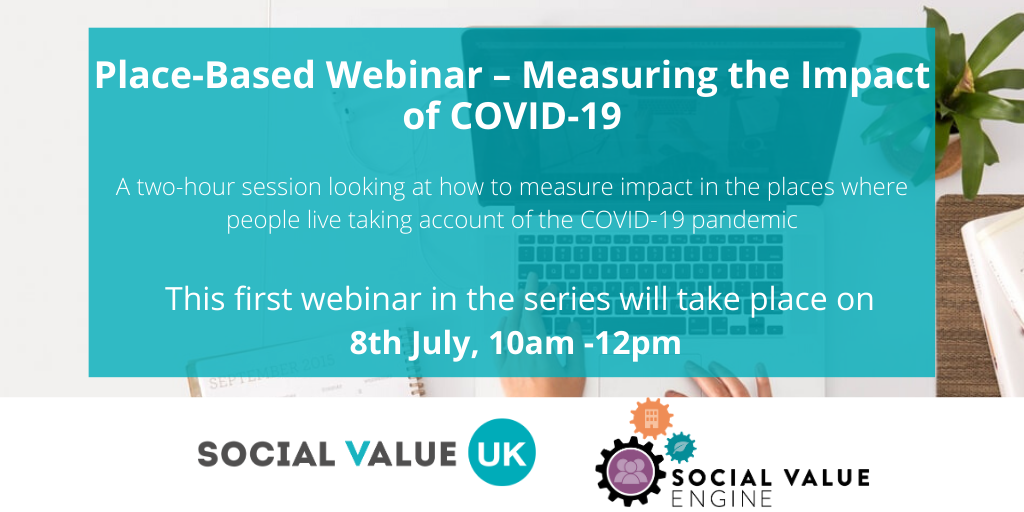 This first webinar is about how to measure impact in the places where people live taking account of the COVID-19 pandemic and will take place on July 8th!
Place-based approaches put communities and their context at the heart of impact measurement. This involves a more joined-up approach than simply considering particular social themes or activities.
This is a core feature of the Social Value Engine, which aligns all the impacts it measures to the sustainability of the place where the impacts happen.
The onset of COVID-19 makes this webinar timely. We have assembled a team of speakers to offer their views about the changes, which will arise in the longer term because of the virus.
We will subsequently explore how the Social Value Engine and other impact measurement approaches can be used to both forecast and measure the social impact of these changes in communities and their neighbourhoods.
Whilst we are in the midst of pandemic it is impossible to predict all the challenges and opportunities it will present. We have however picked out certain strong themes around which to assemble our panel.
Pam Warhurst (Incredible Edible) will reflect on how the impulse towards more local trading and trusted networking as a means of exchange will change the way local economies work.
Professor John Shepherd (Birkbeck University) will reflect on how new approaches to home working and online retailing will change the nature of towns and cities and the way people relate to them.
'Sara Bordoley (NHS England and NHS Improvement) will consider how the NHS can deliver social value in recovery and post-crisis; supporting levelling up and reducing health inequalities'.
Dominic Driver (Natural Resource Wales) will consider the environmental impacts of the virus and their longer-term implications.
Agenda
10.00 Welcome and Introduction
10.10 Pam Warhurst – local trading
10.25 Professor John Shepherd – the impact on towns
10.40 Comfort Break
10.45 Sara Bordoley – the impact around health and care
11.00 Dominic Driver – environmental issues
11.15 Noon – Group Discussion – impact measurement implications
11.45 Concluding Comments (Kate Clifford CEO Rural Community Network Northern Ireland)
12.00 Close
Make sure to Save the Date for webinar 2 in this series, Localis, Social Value Engine and Social Value UK, taking place on 6 August from 10am-12pm
This webinar is about how to measure impact in the places where people live taking account of the COVID-19 pandemic and building their ownership of the process.
It will explore the piloting of the approach set out in the "Brighten All Corners" report through the development of Community Value Charters produced by Localis.