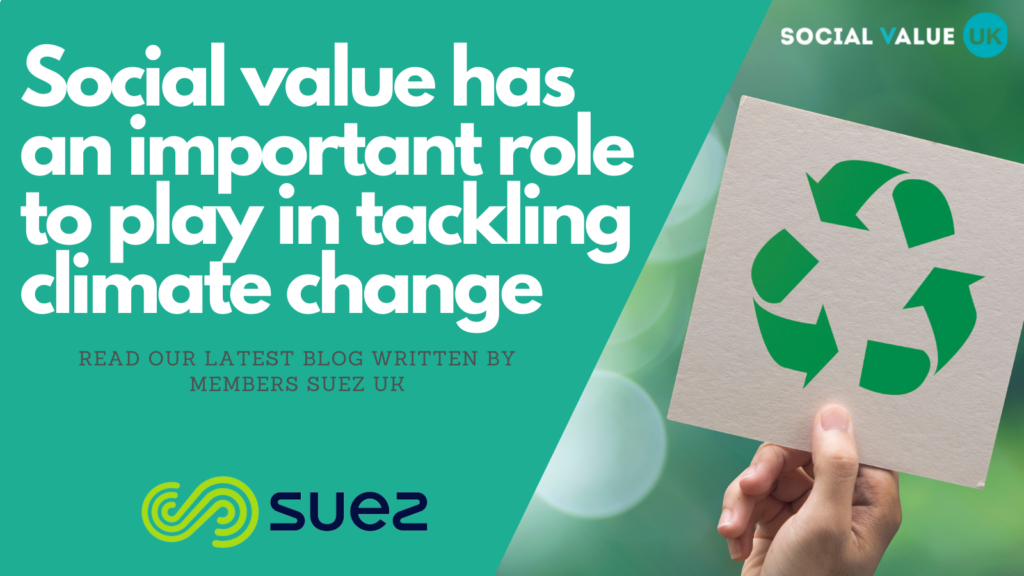 Posted 18th November 2021
The following blog was written by Sarah Ottaway, Sustainability and Social Value Lead at SUEZ UK (a member of ours). SUEZ are a recycling and waste management organisation who pioneer sustainable solutions and innovative technologies for the UK's circular economy.
The last 18 months have been a stark reminder of how interconnected we are to the natural world, from the restorative effects of our local green spaces during lockdown, to the devasting and climate change affected weather events that have regularly filled our media channels, from wildfires to flooding and famine inducing draught.
Climate change is no longer up for discussion, it's here and impacting people and communities across the world, and costing companies trillions. Which is why the recent COP26 event in Glasgow was so important and so well attended by corporate leaders, activists and those who desire for positive change to happen and fast.
I've been in the resources and waste sector for almost 15 years and am baffled why key topics such as consumption and food waste barely get a mention in the climate change agenda, when 90% of biodiversity loss and half of the world's consumption-based emissions are related to resource extraction and processing. And if global food waste was a country, it would be the third largest carbon emitting country in the world, only behind China and the USA.
But this also has a devastating impact on people and communities, from the average household in the UK spending over £700 a year on food they simply throw away, or in food producing regions across the world where food insecurity and malnutrition is being exacerbated as a result of an area the size of China being used to grow all the food that is simply wasted globally every year.
One of starkest images coming from the negotiations in Glasgow was Tuvalu's foreign minister standing knee deep in the ocean to record his ministerial address, in order to highlight the real and imminent threats climate change and rising sea levels are bringing to communities around the world. This was an important reminder that the tonnes of CO2 or financial numbers being reported mask the reality that it's people and us as a species that will face the cold reality of climate change, however we will also significantly benefit from getting the response to it right. By creating healthier economies that are based on consumption within planetary boundaries and that support skilled jobs, we have the opportunity to turn this into something positive, and social value is a key tool in our toolbox for driving this change.
Reuse is a perfect example of this. At SUEZ UK we operate 28 reuse shops at household waste recycling centres (you may well know them as the tip or the dump) across England, which stop perfectly usable household items from sofas to picture frames being thrown away and giving them a second life. Not only do they reduce the need for new products to be made from natural resources, these items are used locally, we create jobs to manage these facilities, and use the profit generated to offset other local authority costs thus reducing their financial burdens or reinvest it through local charity and funding mechanisms to support organisations in the local community. By applying the social value principles and measuring what matters, we have been able to understand the deeper benefits and costs associated with reuse and provide it with a more prominent place in our corporate strategy. This is enabling us to expand our programme of work and invest in new sites and services with three of seven new shops we aim to open in 2021 and 2022 already operational in Greater Manchester, whilst partnering with third sector and community interest organisations at target sites to maximise the materials harvested and repurposed. This is being delivered by our front line operational and management teams who are making ever more informed decisions about effective reuse provision which are in turn generating real benefits for local people and the environment.
The more I understand and learn about social value, the more excited I become about its ability to help create this deeper level of appreciation, and in translating this into quantifiable outcomes that decision makers can easily understand. If governments and organisations alike could more readily adopt social value into their decision-making process, it could even help us turn the tide on climate change before it is too late.