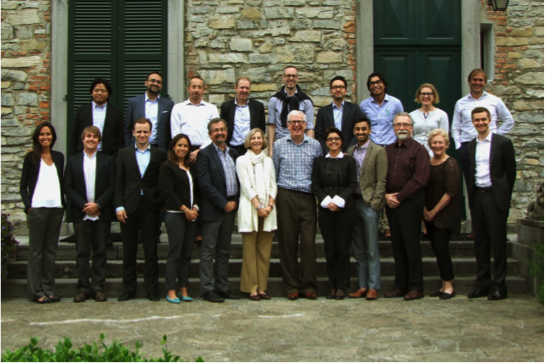 Posted 9th October 2015
On the 21st September, Social Value International (SVI) and the World Business Council for Sustainable Development (WBCSD) convened a global meeting for experts in valuation of social outcomes. Taking place in the Bellagio Center on Lake Como and sponsored by the Rockefeller Foundation, the meeting brought together 22 individuals from a range of sectors and countries to discuss how a variety of valuation techniques relate to each other and can be mapped and brought together with clearer guidance.
The meeting, entitled Valuing the Things that Matter, is part of a growing interest in the valuation of social outcomes. A crucial part of sustainability and impact reporting, valuation is the way in which different outcomes can be measured using the same scale. This process then means that choosing between different options or ways of doing things is more transparent and accountable. Most of the time, the valuation of outcomes is done using 'gut instinct', which results in non-transparent and incomparable judgements being made.
Derived from welfare economics, social research, statistical analysis and SROI, the valuation of social outcomes is a mixture of existing and new approaches.
Delegates brought expertise from around the world, including Australia, Hong Kong, Brazil, Canada, Singapore and India. Sectors represented included academia, philanthropic foundations, the UK Cabinet Office, accounting and financial consultants, multinational corporations and small social enterprises.
Over the three day meeting, delegates discussed the way that valuation techniques map onto each other, the relationship between valuation and audience and purpose, a way of selecting an approach and the assurance of valuations.
Jeremy Nicholls, CEO of Social Value International, said "this meeting has been a fantastic opportunity to bring a wide variety of expertise into one room to talk about this fascinating – and crucial – question of how to value social outcomes. We believe that this valuation process will be a key part of changing the way that organisations can be held to account. Everyone values things intuitively and on an everyday basis; making this process transparent will help organisations to increase the value that they create."
Kitrhona Cerri, Manager of the WBCSD's Redefining Value project, said "the conversations and discussions that have taken place over this week have been an incredibly useful way to develop our understanding of valuing social outcomes. For an area which has so much cross over between different sectors and has huge global implications, the chance to gain insights and agreement from a group of people with such diversity of backgrounds and expertise will go a long way towards improving and focusing our understanding."