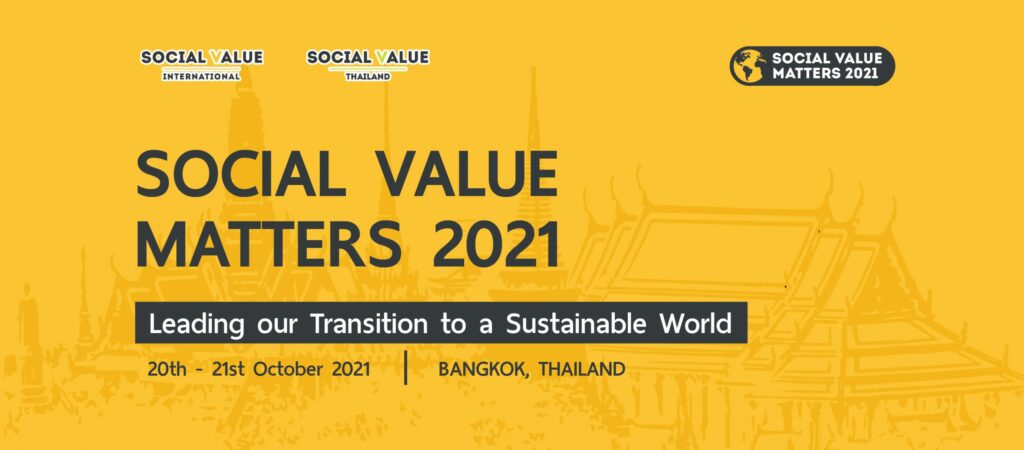 Posted 12th May 2021
We are proud to announce that Social Value UK is partnering with the Social Value Matters 2021 conference, taking place online and in person on the 20th and 21st October 2021. This year's conference will bring together individuals and leaders from across the world to discuss how changing the way the world accounts for value will lead to a sustainable world for all.
Join us at the conference for:
Networking sessions
Mainstage events with headline speakers and high level panels
Practical insights on how to change the way the world accounts for value
Workshops and seminar sessions spanning policy and regulation, ESG, impact investing, purposeful business, assurance, sustainability, data and technology, wellbeing and human rights.
Exchanging ideas and connecting with peers through the conference platform.
Last year, over 700 participants from 40 countries attended the Social Value Matters 2020 conference.
At this year's Social Value Matters conference, you will meet social value professionals, impact investors, academics, policy makers, organisational leaders, students, non-profits, social entrepreneurs, lawyers, and leaders – all with a shared vision to change the way the world accounts for value.
By hosting the conference as a hybrid event Social Value Matters will allow participants to come together safely, either in person or online, for a groundbreaking 2 days.
You can find more information on the conference website.