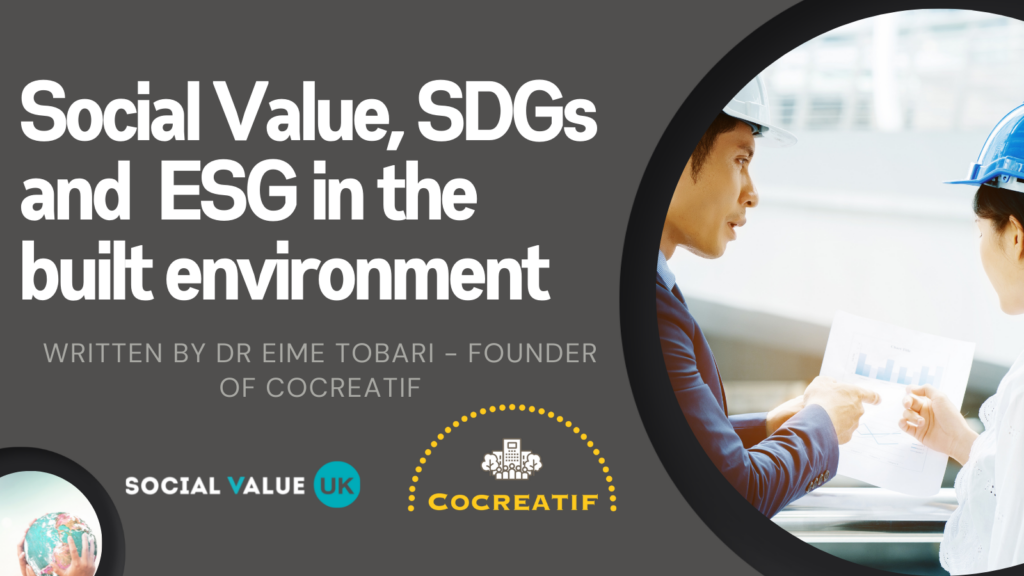 Posted 2nd August 2021
This blog is written by one of our members, Dr Eime Tobari, the founder of COCREATIF and co-author of the recent report 'Zooming in on the "S" in ESG: A road map for social value in real estate'.
Last month as part of the Social Value UK Members Exchange, I was invited to participate in a panel discussion on "Social Value Frameworks and New Developments from the Built Environment" along with Christina Allen (British Standard Institution), Eleanor Boyce (UK Green Building Council) and Ian Nicholson (Construction Innovation Hub). Below is a summary of my further reflections on the topic.
SDG, ESG, impact and social value
What does social value mean in the built environment sector? How does it relate to SDG, ESG and impact investing? In a recent study for the Urban Land Institute, I have partnered with The Good Economy to explore these questions.
For the purpose of our research, social value was defined as "the contribution of activity to social, economic and environmental wellbeing." The United Nation's Sustainable Development Goals (SDGs) probably is one of the most widely accepted and comprehensive frameworks to describe social value; what we value as society. While the definition of social value, particularly in the built environment industry, requires a place-based approach, SDGs can provide a useful framework that links a project specific definition with a wider context and global sustainability agendas.
Along with the general public, businesses and investors are increasingly becoming aware of sustainability issues. Investment institutions are starting to take into account non-financial factors, such as social and environmental impact, into their investment decisions, often focusing on ESG (Environment, Social, Governance) factors. This results in increased levels of ESG reporting by businesses. The focus in such reporting is gradually shifting from avoiding harm and mitigating risk to making positive impact and contributing to solutions. As such, the distinction between ESG and (social) impact is increasingly blurred. ESG can be used as a lens to understand and evaluate organisations' impact on environment and society through their activity and supply chains.
S of ESG. Social aspects in the built environment
As ESG gains traction, there's an increasing interest in 'S' (social) of ESG. What does 'S' of ESG mean in the built environment industry? How is it measured, reported and managed?
The built environment industry contributes to various dimensions of SDGs. Buildings and places ultimately underpin social value by shaping our lives and supporting human experience. Our wellbeing, social interactions, a sense of community and cultural identity are all affected by the way we invest, design and manage.
Addressing "S" is challenging because human experience is context specific. To understand social wellbeing, we need to understand a specific context of place and time, as well as culture, politics and economy. For example, in some communities having social interactions with neighbours might be more important than having private gardens.
Human experience is also dynamic, diverse and complex, involving a wide range of interconnected factors. The built environment is undoubtedly a contributor but certainly not the single determinant. Creating adequate cycle lanes is important in promoting cycling but having one does not mean everyone around there will cycle. Creating an attractive public space may encourage social interactions but it is not sufficient to bring social cohesion to that area instantly.
Then there are challenges that stem from the structure and culture of the industry. The ownership and responsibility of buildings and places are fragmented spatially and across the lifecycle. Places are made up of buildings, streets and open spaces that are all owned by different organisations or individuals. The responsibility for social value consideration shifts from landowners to investors and developers, then to other investors, asset / fund managers and occupiers and visitors. Not all of them have vested interests in the long-term performance of an asset or an area.
Best practice and way forward
Encouragingly though, there are signs that show the industry is beginning to recognise the importance of stakeholder perspectives and long-term performance. Our research identified some of the leading practice around the world including Argent Related, Igloo, NREP, Stories to name a few.
Their examples highlighted that leadership, innovation and collaboration are essential in social value creation. With a strategic approach that embeds social value considerations in business models and processes, businesses can achieve both social and financial value creation. One of the important roles that government can play is to help businesses to do so. In particular, local governments are best placed to develop and articulate visions and priorities for their cities and towns working with local stakeholders, which would help businesses align their projects with place-specific needs and aspirations.
Read more in Eime's recent report, 'Zooming in on the "S" in ESG: A road map for social value in real estate', below.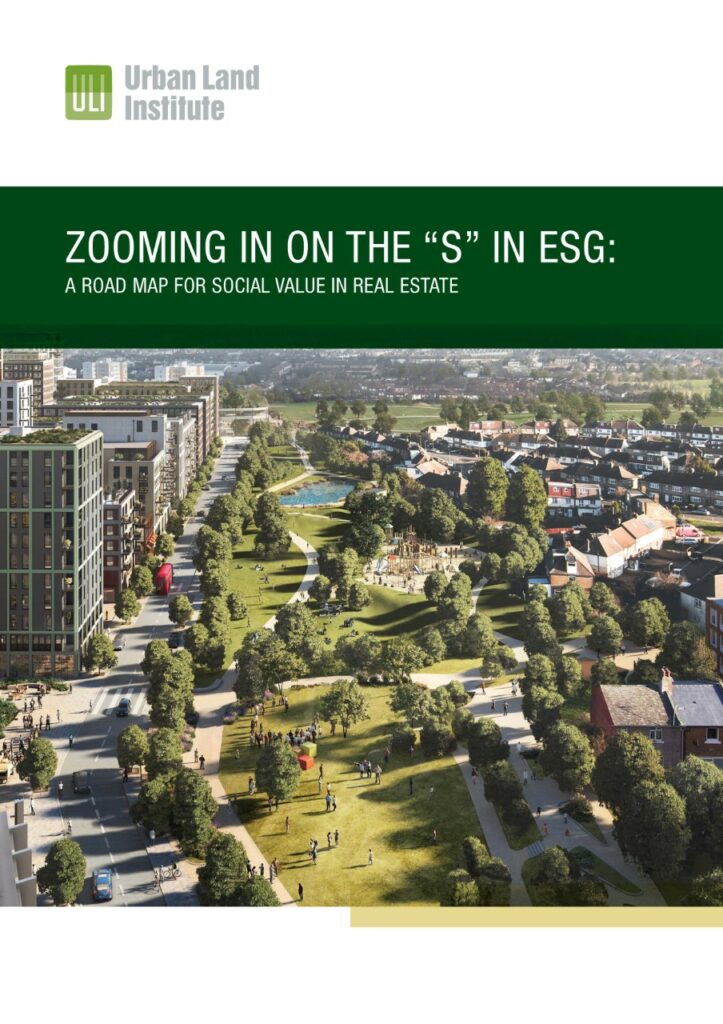 The research for this report was funded by CBRE Global Investors, Credit Suisse, Estabona Management, Fore Partnership, Ivanhoé Cambridge, Jacobs and PLP Architecture.