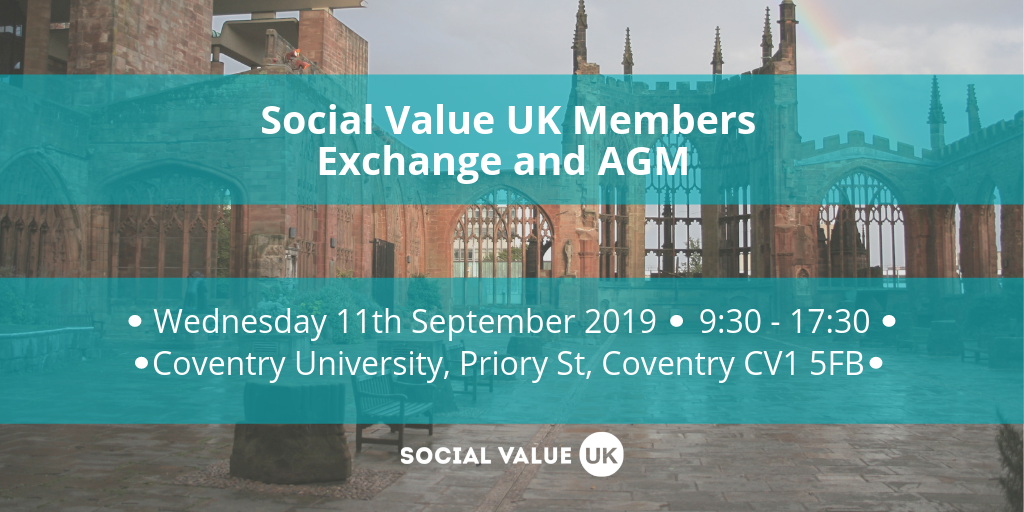 Posted 21st June 2019
The Social Value UK Members Exchange and AGM 2019 (#SVMembersExchange) is a chance for members of the social value community to come together and share best practice, discuss ideas and drive innovation in the sector.
This event will be hosted at International Centre for Transformational Entrepreneurship (ICTE), Coventry University
Get your tickets here.
What can you expect?
• Powerful keynotes from sector leaders
• Interactive round tables
• Inspiring workshops
• Networking with professionals from all sectors
• Opportunities to create meaningful collaborations for change
There will be three sessions of roundtable discussions throughout the day, hosted and led by members. These will be informal conversations amongst tables of 4-10 members where you'll have the chance to debate challenges, problems or ideas you have on social value.
Join us from 4:45 – 5:30pm to participate in the Social Value UK Annual General Meeting (AGM). This AGM involve discussions on what we have done as a Network, and our key aims going forward. This is an opportunity to get involved and shape the future of Social Value UK.
Find out more here.