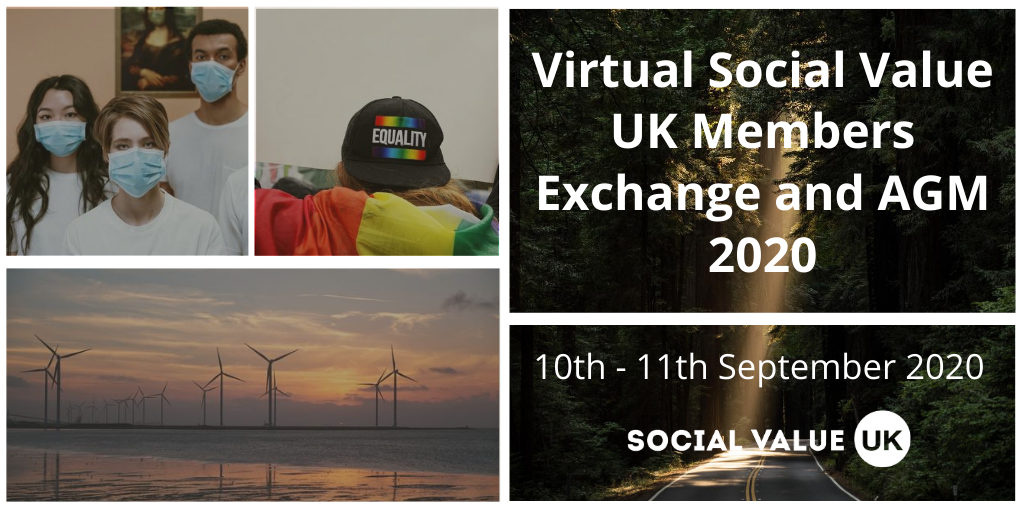 Posted 14th September 2020
Thank you all for attending this year's Social Value UK Member's Exchange. Due to COVID-19, this year's event took place entirely online, and despite this new challenge, it was one of our favourite events ever!
You can purchase a replay ticket to watch back all sessions here.
The below blog is adapted from a speech given by SVUK CEO Ben Carpenter as part of the open plenary.
Welcome to the Social Value UK Members Exchange 2020!
I want to take this opportunity to thank you all for contributing. Over 40 speakers worked to make this such an incredible event.
I also want to place on record huge thanks to the SVUK team who have worked tirelessly to make this possible, especially Rosie and Becca.

Where are we?
2020 is a year for the history books. Take a moment to reflect on the world right now. COVID, Brexit, Black Lives Matter and many social justice movements, as well as the climate emergency and so much more going on, including erosion of trust in our institutions: business, the media and our politicians.
All of this particularly in the last 6 months, have amplified issues of inequality and wellbeing. This has made the work of Social Value UK more important than ever.
It is all of our responsibility, as people with an interest, understanding and power over social value, to bring hope, to offer alternative ways of working that can rebuild trust, tackle inequality, promote greater wellbeing – to build back better.
I often talk about power imbalances. Power and inequality are inextricably connected. These power imbalances must be acknowledged when we are talking about social value.
Measuring social value must be done in a way that gives more power to people that don't often have it. Designing services to create social value must be done in a way that gives more power to people that don't have it; the people experiencing the service.
If we don't address power imbalance then we will not achieve what we need to.
I have been in the position of CEO of Social Value UK and Social Value International for 2 years. In that time we have had conferences where the following themes emerged;
In 2018, we look at social value as a movement. In 2019, we looked at social value going mainstream. In 2020, social value as a movement must be bolder and braver. We must question ourselves harder, how can we all do more?
This is something we kept in mind during the Members Exchange and will be thinking about during the Social Value Matters 2020 conference taking place this September.
We can all be bolder in our actions. We must all be braver to call out things that are wrong.. We must continue to fight racism and all kinds of discrimination. We must be braver in our conversations with colleagues. We must be prepared to challenge each other.
When it comes to measurement, we must be better at calling out examples that are not measuring what really matters to people.

If you watch back our Members Exchange, please keep these points in mind:
Are we measuring what really matters to people?
Are we doing enough to address inequalities?
How can I work more in partnership with others to make change?
If not now, when?
It is time to step up, be bolder and braver in tackling inequality.
There are many exciting developments internationally and I encourage you all to buy a ticket if you haven't already to the Social Value International Social Value Matters conference starting later this month. This is the world's biggest and most ambitious social value conference, with over 60 sessions taking place in multiple languages, co-ordinated from Toronto and including speakers from all over the world.
You can purchase a replay ticket to watch back all sessions here.