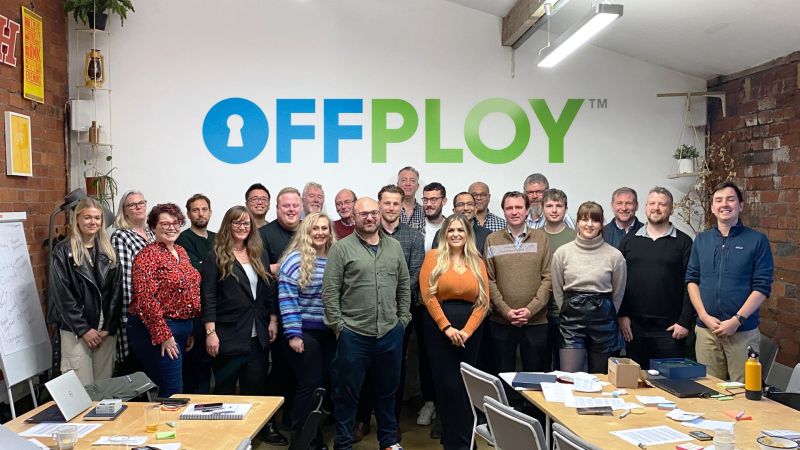 Posted 15th June 2023
Social Value in Perspective: Driving Equality to Solve the Workforce Shortage
There are quite literally millions of people in the UK with a criminal record, often creating a barrier between them, employment and a second chance. SVUK sat down with Offploy founder Jacob Hill to understand some of the challenges, misconceptions and advantages of employing somebody who has fallen foul of the law.
Jacob is a board member of SVUK and his vision is for a world where everyone feels safe from crime – something we can all agree would have a positive impact on people or, in other words, be a positive social value outcome.
What issue do you hope to address?
Employers want to hire people with criminal convictions but often don't know where to start. This a particular problem considering there are over 11 million people with convictions in the UK, including 1 in 3 adult males between the ages of 18 and 52. It means millions face the challenge of gaining meaningful employment, while there are simultaneously hundreds of thousands of vacancies post Brexit and Covid.
We are on a mission to support those at risk at offending, supporting them to access greater opportunities and achieve their full potential.
This means as well as supporting employers, we also support a whole range of socially excluded people through mentoring and advice services, ensuring that committing a crime is not their only option in life.
Why is this an issue?
Crime affects everyone including taxpayers of state services, the families of defendants, future generations and of course, the victims.
Employment, along with other areas of our support such as housing and health advice, is one of the greatest ways to reduce reoffending.
"Employers and the wider British economy is facing the strain of low unemployment with vacant roles likely costing our economy billions per year. Hiring from this talent pool, as more and more great employers like those on the Employer's Forum for Reducing Reoffending are already doing, will be a sure way to fill some of those vacancies and keep our economy growing."
When did you begin to address the issue? What's the background?
I started Offploy after I was in trouble with the law for drugs, which resulted in a 28 month sentence. As the son of two police officers and my region's young entrepreneur of the year, nobody – myself included – expected me to end up in that situation. Like my fellow inmates, it was a waste of talent and life.
I was inspired by those I met inside who wanted to redeem themselves and earn another chance in life, so on release, I started Offploy.
Fast-forward seven years and we are now a national team of 30. We have supported almost 4000 socially excluded people through our services and more employers are actively hiring people with convictions.
What are the benefits to employers?
Employers who have actively hired people with convictions have seen lower turnover, increased retention, increased reputation and access to untapped talent.
Polling commissioned by the Ministry of Justice found that over 90 percent of businesses who employ ex-offenders said they are reliable, good at their job, punctual and trustworthy.
Improved customer reputation, considering 81% of people think that businesses employing ex-offenders make a positive contribution to society.
We have created a whole raft of benefits to employers in our 'getting started' guide.
Can this be adopted/replicated easily by employers?
Employers do not need to go through lengthy processes to hire people with convictions. We recommend they just get started, ask for advice and speak to others who have already walked this path.
Without any obligation, Offploy offers a free confidential 30-minute advice service for HR and CSR managers interested in hiring people with convictions. You can book a call in here.
What happens if this issue is not addressed? What's the human impact?
Society is becoming more divided. Our government is attempting to hire 20,000 more police officers and building 20,000 more prison places. There are over 1.1 million job vacancies in the UK and crime has increased on our streets by over 8%.
Employment reduces reoffending, so hiring people with convictions not only helps fill our talent gap and make us a more productive economy, but also a safer one.
Be curious, ask questions and above all, approach every applicant with a fair mind in order to find your next great hire.
How do people looking for employment come to Offploy? And what is the process for them in getting a job?
People looking for employment after serving a criminal conviction are typically referred to Offploy by their probation officer or DWP Work Coach. Once they've been referred, the candidates begin a nine-step journey with Offploy's team of Social Employment Advisors, many of whom have themselves had a criminal conviction. This process includes guidance on thinking about:
Career goals,
Sharpening CVs,
Crafting tailored cover letters,
Preparing a disclosure letter to explain convictions,
Correctly filling out application forms,
Anticipating interview questions, preparing questions for the interviewers, advice on dressing appropriately, and maintaining a positive and respectful demeanour throughout.

After the interview, candidates are also coached on seeking feedback to improve their chances of success in future applications. The overarching goal is to help these individuals secure sustainable employment and build meaningful careers, with Offploy's team supporting them every step of the way.
How does Offploy support those gaining employment once they are hired?
We believe in more than just securing employment for those with criminal convictions; we're committed to providing sustainable solutions and continuous support. From the outset, we equip our candidates with vital skills to not only find a job but to overcome adversity and challenges that may arise. Our programme is crafted to empower them to source their own employment opportunities in the future, fostering independence and resilience. And our support doesn't end when a job placement is secured. Our door remains perpetually open for those we place into roles, ensuring they have a continuous lifeline of light touch support to lean on. We recognise the path to sustained employment isn't always a straight one, and we are here to help navigate that journey, enabling them to stand firmly on their own two feet, confident and equipped for long-term success.

How does Offploy support the organisation employing those with a conviction?
We equip businesses with our tailored suite of employer services, training, coaching, and consultancy services that ensure the fair, consistent, and safe hiring of individuals with criminal convictions. To maintain a safe and sustainable recruitment, we follow our Seven Steps approach, including building a supportive culture, policy development, risk management, appropriate job marketing, interviews and vetting, onboarding support, and finally, measuring and managing social impact. Our strategy is about more than just filling vacancies, it's about introducing diversity, resilience, and improving staff morale, enhancing ESG and ED&I credentials, and ultimately, reducing reoffending rates.

What are some of the misconceptions?
"People with criminal records can't work." People with criminal records can and do work. In fact, there are an estimated 12.1 million people with criminal records in the UK, many of whom are in sustainable employment and meaningful careers 1 .
"Nobody would want to hire someone with a criminal record." There are organisations that advocate for the employment of people with criminal records and provide support to employers willing to hire such individuals. For instance, Offploy addresses the UK's recruitment challenges by empowering HR and CSR Managers to access an untapped talent pool of ex-offenders.
"People with criminal records aren't reliable." People with criminal records can be reliable employees. By employing ex-offenders, businesses can boost staff morale, retention, and their reputation.
Can you give examples of some of the employers you have worked with?
We operate a highly confidential service with many of our employers currently dipping their toe in. As not to rock the boat too much we'd like to talk about the great work of some well-known brands in order to assure the reader that they haven't gone out of business since embarking on this mission:
Timpson: The retail company, known for its shoe repair, key cutting and engraving services, has been a leader in providing employment opportunities to ex-offenders. They've established training academies within prisons and offer job placements upon release, with ex-offenders making up around 10% of their workforce.
Greencore: As one of the UK's largest food manufacturers, Greencore has established an 'EmployAbility' programme specifically for ex-offenders, providing skills training and work opportunities within the company.
Greggs: The high-street bakery chain runs a scheme in partnership with national charity the Prison Reform Trust. Their initiative, 'Fresh Start', offers work placements and potential employment opportunities to people with criminal convictions.
Virgin Trains: In collaboration with the charity RIFT Social Enterprise, Virgin Trains launched a programme to support ex-offenders into work. The scheme provides training and job opportunities across the rail company.
Barclays: Barclays' AFTER programme helps former military service personnel, including those with criminal convictions, to find employment. It offers work placements, direct employment opportunities, CV and interview coaching, as well as supporting other organisations to hire veterans. While the programme is not exclusively for ex-offenders, it does make a substantial contribution to this area.
---
If you'd like to be further involved with our Social Value In Perspective campaign, please email our Advocacy Lead, Matthew Mckew via [email protected]
Matt Eamer, founder of me&you said; "I'm excited that my creative agency can support Social Value UK in its mission to raise awareness and understanding of social value. We'll be creating visuals and graphics to help bring Social Value in Perspective to life, making the themes accessible for new audiences."