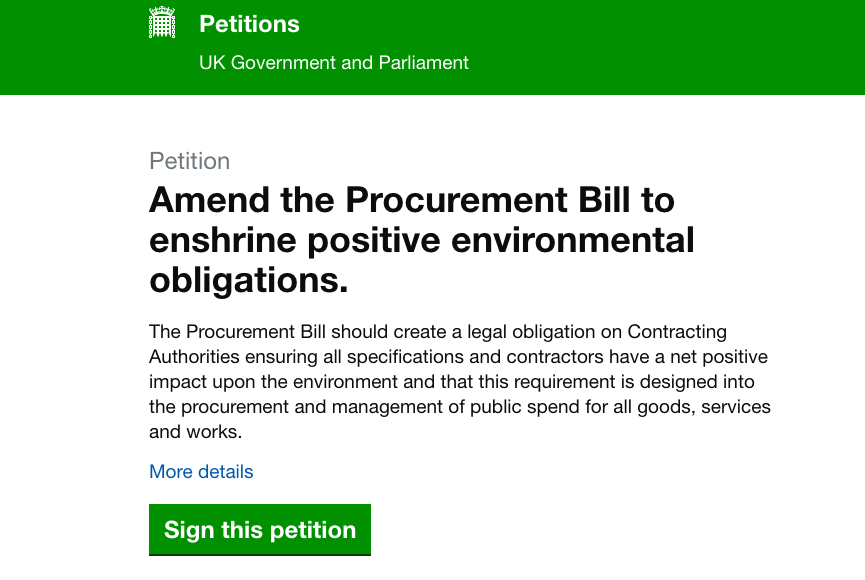 Posted 18th August 2022
The Procurement Bill is under Parliamentary scrutiny, with the aim of placing value for money, public benefit, transparency and integrity at the heart of procurement. The Bill will cover procurement by all contracting authorities in England, Wales and Northern Ireland. One in every three pounds of public money, some £300 Billion a year, is spent on public procurement, so the reforms hold the possibility to affect communities across the UK in myriad ways.
Critical Climate Challenge
Today climate change is the gravest existential threat to every UK and global citizen and will require a concerted effort from the public and private sectors, and civil society, over decades to adapt to and mitigate climate change. The extreme weather events the world is experiencing are rapidly becoming more severe, are happening with increasing frequency and becoming more disruptive. Climate change over the coming years will only become more challenging, with increasingly devasting impact, and our actions today will not reverse this short-term prognosis but will have a positive impact in the decades to come, but only if we act now.
It is therefore incumbent upon the UK Government to use every possible lever to positively impact the environment while limiting the negative impact of climate change. At present the Procurement Bill does not reference climate change at all, and only the environment in reference to 'environmental misconduct'.
Petition to Amend the Bill
David Shields, SVUK Board Member, and Co-Founder of Value Match, organisational member of SVUK, is leading a campaign to embed a legal obligation on all Public Bodies to spend taxpayers' money in such a way as to positively impact the environment.
At SVUK, we would like to encourage our members to review and support this petition to 'Amend the Procurement Bill to enshrine positive environmental obligations.'
To read more about the call to action see this downloadable overview.
To read more about the Procurement Bill:
The Procurement Bill – a summary guide to the provisions – GOV.UK (www.gov.uk)
Procurement Bill [HL] – Parliamentary Bills – UK Parliament
The Bill has undertaken 1st and 2nd reading in the House of Lords, and is currently at Committee stage. There is therefore still good chance to establish necessary amendments to prioritise the critical point of climate change within our public spend going forwards.

Next Steps
The Procurement Bill is fundamental legislation for achieving our society's shared societal, environmental, community, and economic aims. The impacts of reforms to public procurement on the very people goods, works and services are being procured for should be scrutinised in more detail, as is being done by many across the network such as Mark Cook at Anthony Collins: Procurement Bill – Power to the people! (Otherwise known as 'maximising public benefit') – Anthony Collins Solicitors
SVUK will be reviewing and reporting more on the implications of the Bill's reforms in the coming weeks and months through the Contract for Change programme.
To get involved, share ideas or contribute you can get in touch with David directly at [email protected]
Or to support the Contract for Change programme in developing better social value practice in procurement and influencing procurement policy, you can connect through the 'Get Involved' page of Contract for Change: Get Involved | Contract for Change
Posted 18th August 2022