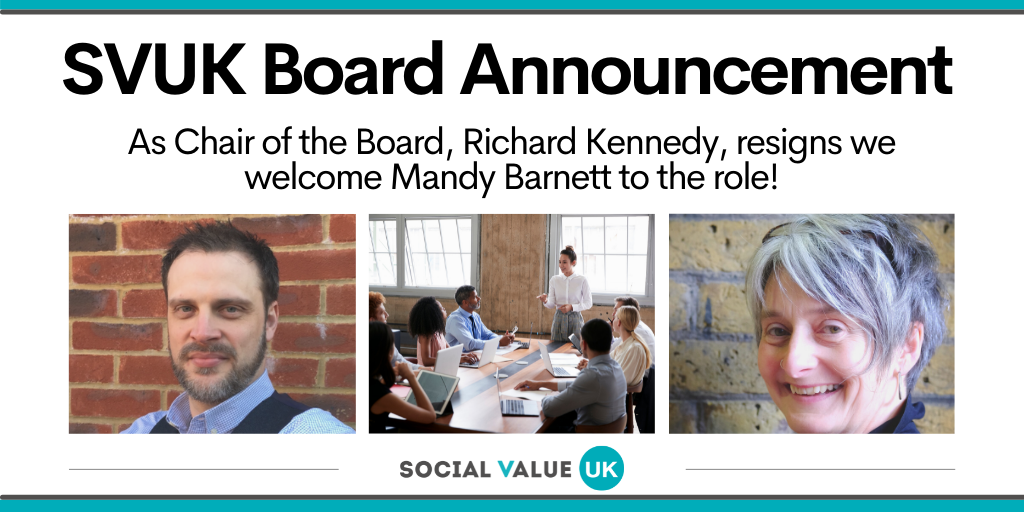 Posted 17th November 2021
This blog is to update all SVUK members on the recent change of our Board members and roles.
Sadly, our long standing Chair of the Board, Richard Kennedy will be leaving this role. In his place we welcome Mandy Barnett and look forward to seeing her carry on such great work!
Hear from Mandy herself:
A message from our CEOs:
We would like to say a huge thank you to Richard Kennedy as he stands down from his role as chair of Social Value UK (SVUK). Richard will remain co-chair of Social Value International (SVI) alongside Simon Faivel.
Richard, who is known personally to so many of our stakeholders, has served on the Board of SVUK for nearly 13 years and was the Chair of our Board between 2012 and 2021.
We have been fortunate to have such an experienced multi company non-executive and executive director leading our Board. In carrying out his role, Richard has lived out his passion for using the power of business models and capital to create sustainable, positive social change.
Richard, as an accredited SROI practitioner with past involvement in the not for profit, social investment, corporate and hospitality sectors and his capabilities in developing cross organisational and cross sector partnerships has served us well.
On a personal note, as new Chief Executives, Richard has been extremely welcoming, supportive and encouraging towards us as we have familiarised ourselves with the work of SVUK. Having someone with a wealth of knowledge, understanding of the field and a wide range of contacts has helped us enormously in testing out ideas and guiding us on how we can grow and develop as an organisation.
We are so glad that he intends to continue to collaborate with us and with SVUK to help us build upon the great foundations he has helped to lay over the past decade.
We wish Richard the very best as he continues to contribute to the world of social value through his own social enterprise, Cornerstone Place, and his continuing work with Social Value International.
In the meantime, we are delighted to announce that Mandy Barnett has been unanimously elected by the rest of the SVUK Board as our new Chair. We look forward to working with her in her new role.
Crispen Sachikonye and Isabelle Parasram