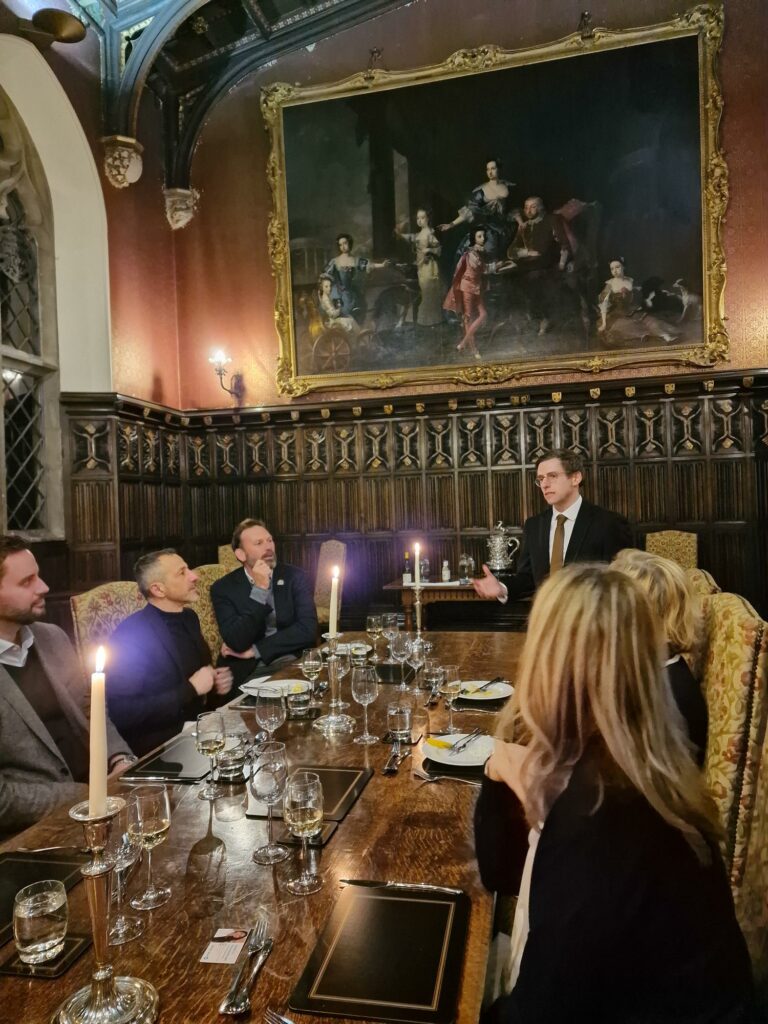 Posted 13th February 2023
"We've been doing this, we just didn't know it" was the overwhelming response to a speech given by Social Value UK chief executive Isabelle Parasram on Thursday evening at Powderham Castle, Devon. 
Isabelle, alongside two work experience students and SVUK advocacy lead Matthew Mckew, attended a dinner and tour laid on by law firm Michelmores. 
The focus of the evening was to shed light on the "S" in ESG – Environment, Social and Governance reporting. 
Isabelle opened her speech by levelling the playing field for the lawyers, who represented diverse firms such as fashion brand Mulberry, utility company Pennon Group and environment charity Client Earth, by outlining what social value is. 
Positive feedback came back immediately, with those yet to embark on their social value journey suggesting they were already creating positive social impacts but were either yet to measure their impacts or fully involve stakeholders in the process. 
For others, perhaps further in their journey, Isabelle encouraged the guests to use what they had been measuring to evaluate the outcomes and inform future decisions. 
The SVUK CEO also flagged the need for organisations to address their negative social impacts and look to challenge themselves. 
This sparked intrigue from the guests, with some admitting negative impacts had perhaps flown under the radar. 
Either side of Isabelle's speech, the assembled guests were treated to a tour of Powderham Castle by the owner, the Earl of Devon Charles Courtenay. 
Over dinner, SVUK advocacy lead Matthew Mckew invited guests to consider their social value creation through the prism of staff wellbeing. 
He outlined how the benefits exceeded just moral or ethical rewards and could prove beneficial in terms of productivity. 
Matthew also challenged guests to consider how they went about trying to achieve a positive impact on their local communities. 
He asked the lawyers to consider, for example, how pro bono legal advice could be more impactful to an under-resourced community group than a spare pair of hands on a DIY morning. 
Social Value UK attended the event as part of its advocacy programme. 
It was an opportunity to spread the social value message to external groups and encourage more organisations to make decisions informed by their social impacts. 
Posted 13th February 2023