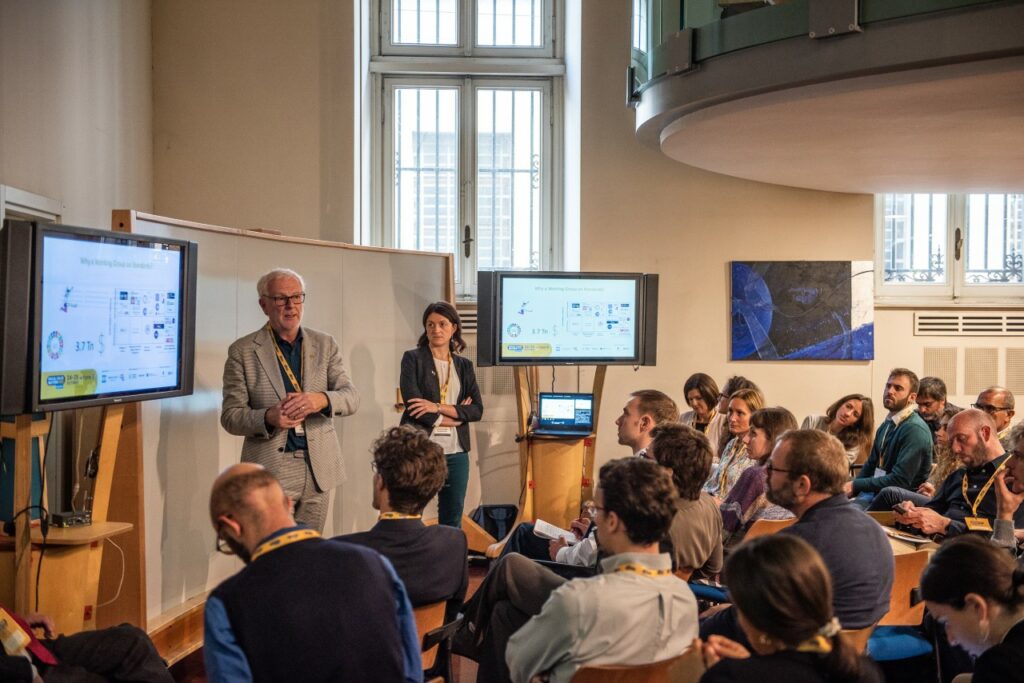 Posted 2nd November 2022
The following blog was written by our Private Sector Lead, Charlotte Osterman
On 24 – 25 October, Social Value Italia organised and hosted with Social Value International and Torino Social Impact the Social Value Matters 2022 Europe. 
The conference that builds on the previous success of the Social Value International's Social Value Matters conferences, set out to bring together practitioners of social value to share learnings, challenges and discuss across nations. Social Value UK's Catherine Manning and Charlotte Österman were there and report: 
The energy was buzzing as familiar and new faces gathered at UniCredit's events space in central Turin on Monday last week. For many this was the first-time meeting in person after the last years' pandemic and there was excitement in the air. Despite the conference setting out to be a European one, attendees had travelled as far as from South Africa, New Zealand, the US and Canada to take part in the discussion. 
Day one kicked off with an Italian late start, and a Davide Dal Maso (Social Value Italia) and Ben Carpenter (Social Value International) were amongst the speakers setting the scene. Davide reflected on how far we come and how the Italian market had seen a real shift in understanding and demand for impact assessments, meaning that it had now become significantly easier to convince clients, whilst it only 10-20 years ago was a tough game. But we're not there yet, he said, making the point that despite us talking more about social value, we don't practice it enough. Which in our opinion also has a link to Principle 8: Be Responsive – or as it was also referred to by other speakers – the "Do Something!" Principle.   
Turin is considered an impact and start-up hub of Italy and it was fascinating to hear about the piloting of a Social Stock Exchange, experiencing site visits to social housing estates and listen to speakers from the OECD how tools for a new social economy can be used. 
But we weren't just listening in to the conversations, Social Value UK also had the pleasure of co-delivering two workshops. 
Workshop: Discussions around Wellbeing 
In this session with Giuseppe Dellerba (Fondazione Cottino), Maria Giulia Marini (ISTUD) and Paola Chesi (ISTUD), Charlotte gave an overarching perspective to how different frameworks explain wellbeing and most importantly why it is so core and intertwined to what is social value. This was followed by national insights from the Social Value Act of England and Wales, but also the frameworks of Scotland and Wales – two Wellbeing Government Economies – and Northern Ireland's Social Value Policy, as SVUK gave an overview of things that are happening in the UK. 
Maria Giulia and Paula then deep dived into two case studies of how wellbeing had been defined in studies of migraine and epilepsy. It was fascinating to hear how health already in 1948 was defined as more than just "physical health" and how important it is to understand what outcomes and changes in wellbeing occurs as a result of an illness or treatment to be able to most effectively help the patients and those around them. 
But there was also another wellbeing workshop running, which we just have to share some insights from and to some incredible practice in New Zealand. The country that has for long had wellbeing high on the political agenda, had case studies from the indiginous Māori community showcased. Awerangi Tamihere explained how they created a true bottom-up understanding of wellbeing and value for these indiginous communities, where the families' definition of what matters to them leads programme design, measurement and even reporting up to regional and national level. It was inspiring to hear both about this outstanding practice of involving stakeholders and being responsive to reduce inequality and support in a way that works for them, but also refreshing to hear very transparently of challenges they have had and how these were overcome. 
For our SVUK membership, we will compile our workshop and international case studies into a Wellbeing Workshop. Please contact [email protected] if you'd like to know more. 
Workshop: Accreditation and Certification 
In this session with Sophie Robin (EsImpact and Stone Soup) and Jeremy Nicholls (UNDP and Capitals Coalition, Catherine moderated a discussion around what are the next steps for accreditation, certification, assurance and verification within the social value and impact management profession. Especially the session spoke to outline how best further professionalisation of the sector can be achieved through assurance, accreditation and certification of process, people, practice, and data, whilst the discussion also dived into the topics of how assurance can be decreasing risk and support better decision-making. 
In the final panel Jeremy Nicholls (UNDP), Bonnie Chui (The Social Impact Investment Consultancy) and Filippo (Human Foundation & Social Value Italia) discuss sustainable development and how we go from here? As a last take-away and to reply to the question on what we can personally do now to achieve our movement's mission and ideally within the timeline of the SDGs? The three panellists answered: 
Don't go back again and again and again to get better data. Use the data you have to make decisions

 

Call out impact washing, even when you're finding it within your own organisation

 

Support businesses to implement the

SDG Impact Standards

 
We hope that this has provided a few nuggets and thoughts to spark our future discussions, work and practice.  
If you have any questions or comments on above, please don't hesitate to get in touch.  
If you're also in conference mood, please don't miss our two sectoral conferences coming up:
8 Nov Private Sector Conference: How do we link the social value agenda to the SDGs?
29 Nov Civil Society Sectoral Conference: Social Value – Lever for Change or Lost Opportunity?