Posted 10th May 2019
This blog post was originally written by Hannah Marsh for Talent Gateway.
Employee engagement might be one of those great business buzz words but if you want your business to grow, it is vital to your success.
So just what do we mean by employee engagement?
Employee engagement goes well beyond the percentage of employees that tell you they are satisfied on your annual survey. When an employee is engaged, they are motivated by their role. They go above and beyond what is required because they believe in the business, what is trying to be achieved and see themselves as part of something greater.
And its not hard to see how employee engagement is intrinsically linked to purpose and culture.
A business with a clear purpose gives each employee meaning – they can see how their role contributes to the broader mission of the business. Add the right culture and an employee can flourish in an environment that supports them.
That's not to say every culture is right for every employee.
You have to get the right 'fit' between the employee, the purpose and the culture. This is a critical step in any recruitment process and articulating your culture clearly can help to attract the right talent. And when the fit is right, employee engagement is high, as is productivity and growth.
And the stats don't lie..
Great Place to Work and HR Zone have shown that employees who rate their employer as a great place to work have significantly higher engagement rates, lower voluntary turnover rates and fewer absence days.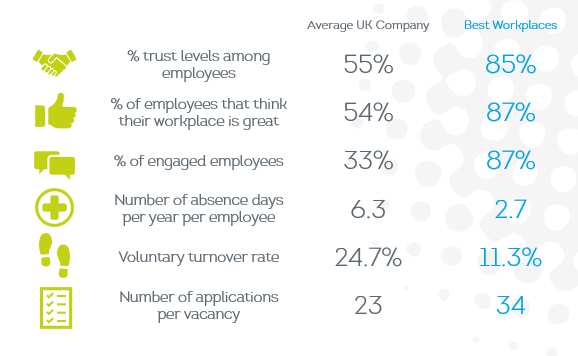 Furthermore, it was shown by Human Capital Management Institute that for every 1% increase an organisation had in the Trust Index© (Great Place to Work's measure of employees perception of an organisation), there was a corresponding ROI increase of between £75,000 and £1,000,000.
Ok the return is very broad dependent on the level of investment and size of organisation, but it shows that investing in your culture absolutely delivers financial return.
At Talent Gateway, we believe that people are the key to success and work with organisations that share that value. Investing in your culture and ensuring the wellbeing of your employees is the right thing to do. But it also makes good business sense. Happy employees are productive ones and becomes advocates for your business so you can continue to attract and retain the right talent for your business.
Want to learn more?
Join us on Tuesday 21st May 2019 to gain practical advice on how purpose and culture can help you to attract and retain talent. Hear from successful companies that have used purpose and culture to address business issues, aims and objectives. Click below for you free ticket.
Find out more and view agenda here
Business Trends 2020 – How companies are using Purpose & Culture as growth drivers
9:00am – 13:00pm
Tuesday 21st May 2019
Robert Denholm House, Nutfield, RH1 4HW