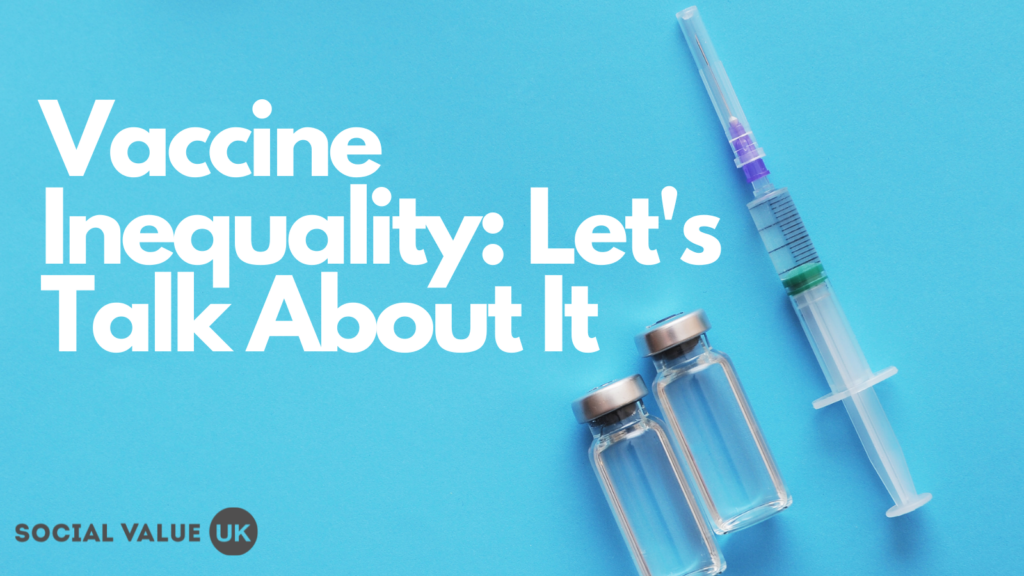 Posted 29th June 2021
The following blog was written by Social Value UK's Digital Marketing, Communications and Events Assistant, Maddy England. Social Value UK continues to show a commitment to accounting for social value, thus working to decrease inequality and educate on important social issues such as this.
Whilst most of the UK population have now received at least their first dose of the COVID-19 vaccine, this is not representative of the global vaccination experience.
Unfortunately, it is the case that predominantly only wealthy countries find themselves able to execute these large scale immunisation campaigns (e.g. the UK, USA and Israel). The Guardian reported, that of 48 countries with high vaccine rates, only one country – Mongolia – would be classified as a middle-income country.
When looking at low-income areas, the statistics are scary, as of June 2021 only 28 million doses have been administered in Africa. This is less than 2% of the continent's population! A similar pattern can be seen in lots of Asia, Latin America and the Caribbean. Worryingly, it is estimated that the world's poorest 92 countries will not be able to reach a vaccination rate of 60 percent of their populations until 2023 or later.
Although stemming from this, it is not only due to lack of funding that this has occurred, there are many other factors at play – including the erratic nature of the supply of vaccinations, issues with healthcare infrastructure, misconceptions surrounding the vaccine and general organisation of the delivery.
The World Health Organization's Director-General Tedros Adhanom Ghebreyesus has highlighted the issue of inequitable distribution of vaccines on several occasions. Most notably he gave his views in an interview, stating "I need to be blunt, the world is on the brink of a catastrophic moral failure and the price of this failure will be paid with lives and livelihoods in the world's poorest countries."
As seen in India, new variants can be devastating. Without a vaccinated population, the variants are presented with a greater opportunity to thrive within a country when there are many potential hosts and movement. If financial issues are isolating countries from gaining access to vaccines, this will only give more power to the pandemic.
In an article, UNAIDS stated "To control the virus, enough doses of vaccines need to be produced in different geographies, priced affordably, allocated globally and widely deployed for free in local communities. Thus far, the world is failing on all four fronts."
A program by the name of COVAX has been developed by CEPI, Gavi and the WHO – with the goal to ensure fair distribution of the vaccine, to make sure no countries suffer from access issues. They aim to make 1.8 billion doses available throughout 2021. Although seemingly a large number, when spread worldwide it is not quite as substantial as it first appears. There are two main flaws:
Vaccines are prioritised according to population size (not always the best measurement as all countries are in different stages of the pandemic)
Capacity is not considered (many countries lack the infrastructure to enable these large scale vaccination campaigns)
Despite this, it is all a move in the right direction. Every vaccine is important. It goes without saying, the nature of a pandemic means that none of us are safe until we all are. It is so important that campaigning is both continued and developed for vaccine accessibility – everywhere.
What we can do:
Social Value UK are proud to join 400+ academic, public health experts, politicians, charities, NGOs, unions, healthcare workers, and patients calling on the Prime Minister, Boris Johnson, to waive intellectual property on COVID-19 vaccines & treatments. Pharmaceutical monopolies are actively creating barriers to widespread vaccinations, leaving us all in danger – we need a People's Vaccine, not a profit vaccine. A waiver such as this would allow more producers to get more vaccines made and help save countless lives and livelihoods.
If you are able to help out, we would suggest taking a look at the organisations below, who are all working to bring hope and safety to people around the world who still have a long wait for their vaccinations.
We are hopeful in that support is building for these trail blazing organisations and look forward to seeing progress in vaccination rates in the very near future
Keep safe and make sure to play your part,
The Social Value UK Team