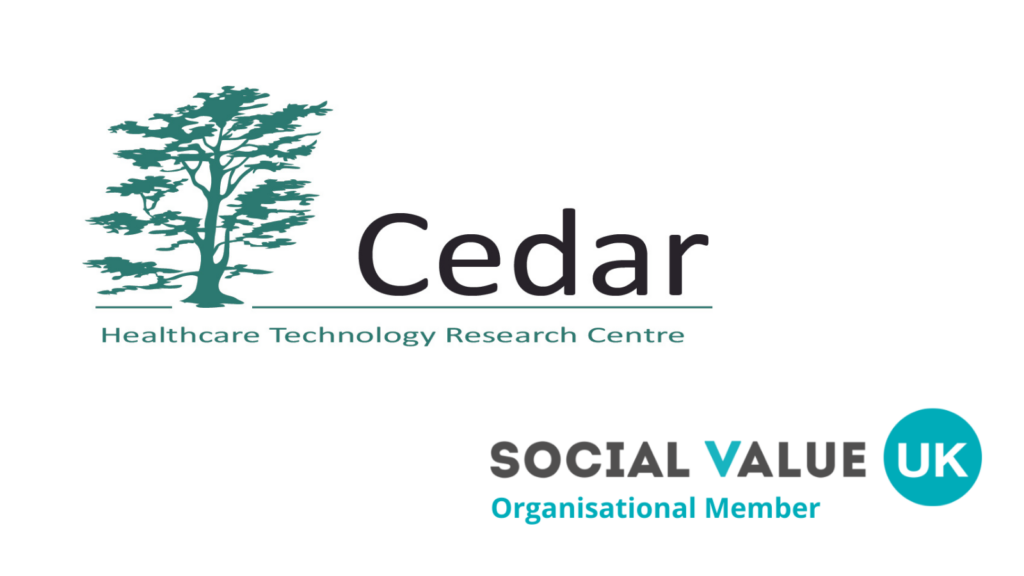 Posted 26th October 2022
Social Value UK is proud to announce Cedar have joined us as Organisational members! Ahead of their joining, Social Value UK spoke to them about their social value journey so far.
"Cedar is a healthcare technology research centre which is part of the NHS (Cardiff and Vale University Health Board) and Cardiff University. Cedar focuses on evidence, research and evaluation involving mainly medical devices, diagnostics, and interventional procedures. We also work on service improvement and redesign projects. Cedar has a team of researchers led by Kathleen Withers dedicated to supporting the Welsh Value in Health Centre (WViHC). WViHC is a national programme of work striving towards achieving a Value-Based Health Care approach across NHS Wales in support of Prudent Healthcare principles."
Why do you think social value is important? In your organisation, your industry or in wider society?
Improving health care is often part of a complex system, involving many stakeholders and implications beyond the immediate change. The principles and framework of social value can be used to ensure that these are integral to health care decision making. SROI methodologies are becoming more recognised in healthcare and is increasingly important to our work with the WViHC where we support evaluations of healthcare projects across Wales. We have also used SROI techniques in national reports on behalf of Welsh Health Boards which have been used by the Welsh Government to support funding decisions. It is essential that we involve service users and other stakeholders in our evaluations and that we can understand and measure what is important to them.
Does your organisation have a background in social value/social accounting/SROI?
Cedar has a long history of evaluation of medical technologies, evidence review, health economics and patient experience. We have developed patient reported outcome measures and contributed to developing a national programme of collecting outcome measures and experiences from patients throughout Wales. We have also completed SROI reports for providers of Long COVID services and services supporting mental health and emotional wellbeing in children and young people and are currently looking at programmes to support people with hip, knee and back pain.
What are your plans for your SVUK membership?
Our role as the lead evaluation team for the National programme of work with WViHC allows us to bring SROI methodologies into the NHS in Wales and develop our expertise in this area to ensure we are providing outputs of the highest quality. We will also use the impact tools to ensure that maximising social value is at the heart of all our work, from increasing patient involvement and diversity, to tailoring outputs appropriately to suit the intended reader.
By joining SVUK, we are committing to these concepts, and look forward to sharing and expanding our knowledge through participation in social value workshops and events.
"The Value Based Healthcare agenda encourages us to focus on meeting the goals of our patients and providing person centred care. Social value can support this by providing a framework for understanding the impact of interventions and services we provide in NHS Wales, involving all of our stakeholders and using an evidence-based approach." – Kathleen Withers, Value in Health Lead & Cedar Deputy Director
Posted 26th October 2022