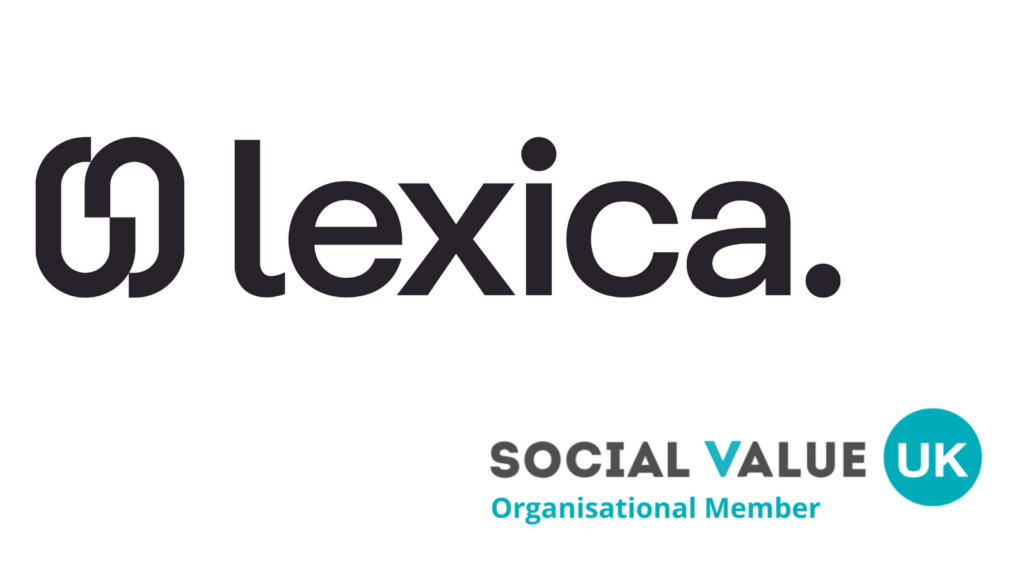 Posted 4th July 2022
Social Value UK is proud to announce Lexica have joined us as a Organisational members! Ahead of their joining, Social Value UK spoke to them about their social value journey so far.
"A wholly-owned subsidiary of Guy's and St Thomas' NHS Foundation Trust (GSTT), Lexica is a leading specialist health and life sciences consultancy. We support health and life sciences organisations in the UK and internationally with the planning, delivery and continuous improvement of their services now and into the future.
Formed in 2013, we have over 100 experts and our services include healthcare strategy + planning; property consultancy; cost management; project management; programme management; net-zero; and infrastructure solutions. Our offer comprises individuals with diverse and complementary backgrounds in medicine, architecture, complex data analytics, NHS operational and estates management, complex project delivery, finance, net-zero strategy and digital.
We care about achieving better health outcomes. Our NHS roots, deep-seated purpose and our choice to specialise in health and life sciences mean we bring unparalleled capability, commitment and collaboration to deliver the health outcomes clients want – or better. Given our NHS origins, we are unique in having access to expert clinical opinion to deploy as required on our assignments with clients. Similarly, we have contributed significantly to the society we are part of, with ESG at the heart of what we think and what we deliver. We have contributed over £3m of our profits back to the NHS. We have also signed the Pledge to Net Zero to achieve net carbon zero direct emissions by 2030 and for its indirect emissions by 2040."
Why do you think social value is important? In your organisation, your industry or in wider society?
We are committed to achieving social and environmental progress, whilst ensuring the success of our organisations and the organisations we serve.
As a professional services firm, through our ability to mobilise specialist expertise and knowledge, Lexica strives to maximise the opportunity to deliver the social value benefits to our clients or as a result of the work we do. We do this in three ways:
As an SME in our own right
We are wholly owned by an NHS body, delivering our profits back to the NHS and employing, supporting and developing individuals. The below image summaries how Lexica has delivered a range of social value and net-zero benefits: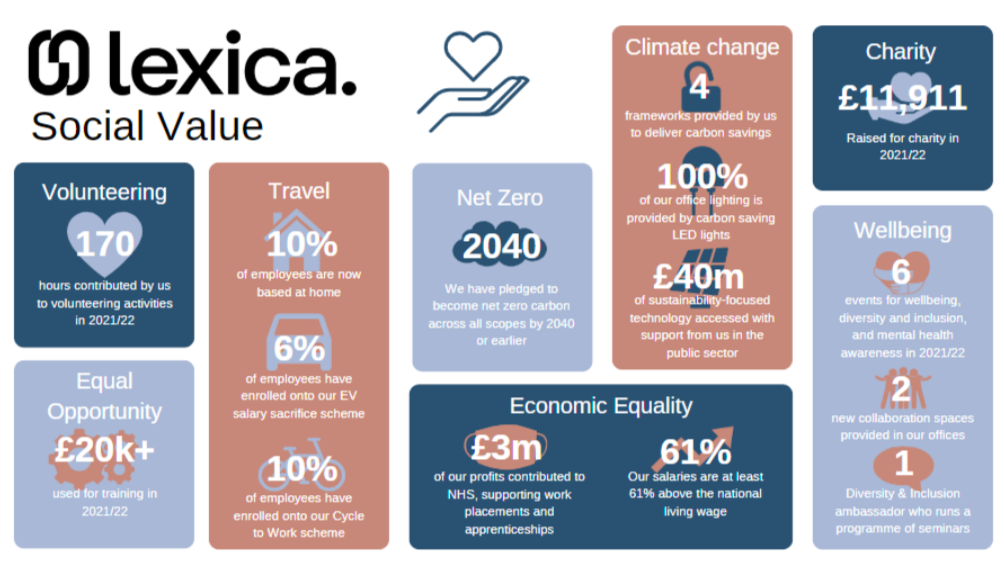 In undertaking the work for our clients
We deliver social value and additionality as part of the services we provide to our clients. We do this through;
Knowledge transfer and adding value
As practitioners in the health and public sector environment, Lexica is actively involved in a number of market initiatives for the benefit of developing knowledge for ourselves and our clients. We utilise our contacts and relationships and experiences from other clients and other sectors for the benefit of the clients that we serve. As part of our offer, we share access to our thought leadership and market network events that may be of relevance to clients. For instance, Lexica manages and hosts a programme directors forum for major capital projects based around the NHP programme in England. This focuses on various aspects of project delivery and has previously included topics of MMC, net carbon zero, digitalisation and social value. It also provides the network with access to and discussions with peer group project directors and a number of practitioners.
Similarly, through the course of our work, we have a depth of relationships with central and local government policy setters and decision-makers, as well as comparative international projects and with a range of delivery organisations. We will use these relationships to support the development and implementation of your estate strategy and we will facilitate appropriate introductions and connections for the benefit of our clients.
An extension of our client's team
We see ourselves as an extension of our client's in-house team, and we will deliver this by understanding what they need to operate effectively and by putting ourselves in their shoes. Specifically, we will ensure that we:
Support their initiatives or team events and host/organise social or networking events.
Support their team through training events/seminar programmes.
Recognising we offer greater value
There are recognised challenges of professional services firms in delivering the whole scale social value from short-term advisory mandates, where opportunities to employ local or engage SMEs are extremely limited. Much Social Value impact usually comes from local employment opportunities and yet the principle of utilising shorter-term professional advisory on an "as needed" basis frustrates the ability to offer additionality locally. Therefore, Lexica always seek to maximise how we can support our client with their lasting additionality legacy in what we deliver, as opposed to how we deliver. We are seeking to better convey the social value outcomes we can unlock or support.
In supporting clients to demonstrate how their projects and initiatives will deliver value.
The rationale for clients' developing projects is to underpin the investment proposition to deliver better health outcomes and demonstrate that a change in the delivery of care will produce economic and societal benefits. We apply our proprietary methodology for capturing the social value of health infrastructure investment which response to the latest Treasury Green Book requirements. This methodology is soon to be externally peer-reviewed for accreditation purposes.
Does your organisation have a background in social value/social accounting/SROI?
We are in the process of commencing a self-assessment (when we have access). We are constantly meeting new clients and starting new projects, and whilst sometimes not explicitly sought by clients, we aim to support and deliver SV considerations to them. Other clients are more explicit – for instance, we are working with a Welsh organisation wanting to ensure the Future Generations Act and Foundation Economy are embedded into our outputs.
What are your plans for your SVUK membership?
As a vehicle to present Lexica's SV credentials
To offer an SV approach and development path to staff
To create and deliver SV methodologies to / for clients
To raise SV understanding with our staff and clients
To support the development of a practitioners approach to SV
"Lexica has public and social outcomes at its heart. As a professional services firm, through our ability to mobilise specialist expertise and knowledge, Lexica strives to maximise the opportunity to deliver the social value benefits to our clients or as a result of the work we do." – Paul Styler – Executive Director and Director of Infrastructure Solutions