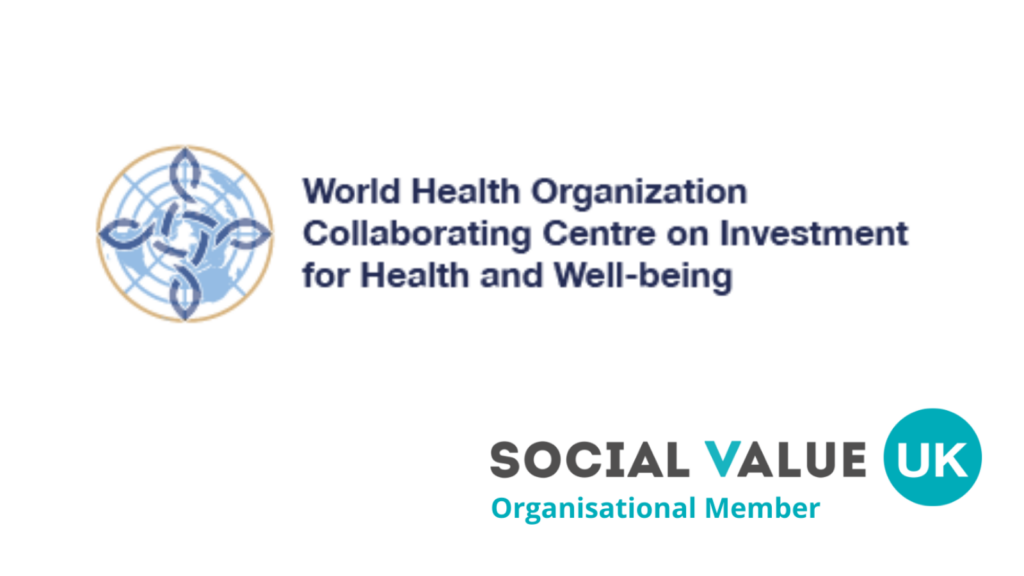 Posted 14th July 2022
Social Value UK is proud to announce Public Health Wales WHOCC have joined us as Organisational members! Ahead of their joining, Social Value UK spoke to them about their social value journey so far.
"We are the WHO Collaborating Centre on Investment for Health and Well-being (WHO CC) which sits within the national public health institute for Wales (Public Health Wales). Our work programmes are committed to reduce inequalities to build stronger, fairer and more resilient communities in Wales, Europe and worldwide. We know that this is particularly crucial, as investing in public health does not just create a healthier and fairer society, but will also bring stability, resilience and sustainability, creating an 'Economy of Well-being'.
We achieve this by developing, collecting and sharing relevant evidence, information and tools, and by working with other colleagues in Public Health Wales and our academic and international partners. This helps us to ensure that local, national and international learning on investing for health and well-being is available throughout our national and global networks and supports the development of skills necessary to use such knowledge."
Why do you think social value is important? In your organisation, your industry or in wider society?
The complex nature of public health, comprising largely of prevention, cross-sector services and interventions, results in its wider value and benefit are not always easy to capture (attribute to) and measure. This creates challenges in presenting a clear picture for the social, economic and environmental justifications for investing in public health and we recognise that measuring the wider value of the things we do is crucial for our work.
Investing in public health has been particularly recognised during the response and recovery phase from the Covid-19 pandemic. The strong relationship between the economy and public health is evident and we aim to help shift the focus away from a heavily market oriented society towards a more inclusive, just and equitable future that provides opportunities for everyone to live a healthy and fulfilling life. This can be achieved by demonstrating the holistic value of investing in public health, using methodologies such as Social Return on Investment (SROI) which involves actively engaging with the public and key stakeholders to understand and monetarise meaningful outcomes. By building on the traditional value for money approach within our organisation, we are working to find ways to capture, present and measure the full holistic range of our outcomes, impacts and related value.
Does your organisation have a background in social value/social accounting/SROI?
We are currently undertaking an innovative programme of work which aims to progress the methodology of Social Return on Investment for application in public health to help inform investment prioritisation.
We aim to:
1. Compile an evidence base on the social value and return on investment of public health services and intervention in key public health thematic areas.
2. Pilot the application of a SROI methodology for selected public health programmes; 3) Raise awareness and improve understanding of social value and SROI and other relevant health economics approaches within Public Health Wales and across relevant key stakeholders.
4. Develop and progress an interactive digital database and tool for storage, manipulation and presentation of health economics data, to inform and support decision making, investment prioritisation and quality improvement in the COVID-19 recovery.
5. Develop a framework and approach for evidencing social value of public (health) programmes, which can be used and adapted by other public bodies and public health institutes across Wales and internationally.
Examples of published work:
Health Impact and Social Value of Interventions, Services, and Policies: A Methodological Discussion of Health Impact Assessment and Social Return on Investment Methodologies 2020 – Read more
The social value of investing in public health across the life course: a systematic scoping review 2020 – Read more
How to Make the Case for Sustainable Investment in Well-being and Health Equity: A Practical Guide – World Health Organization Collaborating Centre On Investment for Health and Well-being (2019) – Read more
What are your plans for your SVUK membership?
We hope through the membership, we would be able to develop and promote our work to other individuals and organisations, advancing social value and adding our public health perspective into the picture of the wider work of SVUK. We would also like to take the opportunity to promote our work across channels used by SVUK and receive support with networking to promote work.
We hope to be able to share and expand our knowledge by attending social value events have the opportunity to join discussion and other relevant forums as well as join workshops. One of our main goals is to change the way we account for value in the public health domain.
"Investing in public health, by looking at the holistic value of our services, can create and enable sustainable, inclusive and equitable communities in Wales and beyond, leading to an Economy of Well-being" – Kathryn Ashton (Programme Manager, WHO CC at Public Health Wales)
Posted 15th July 2022