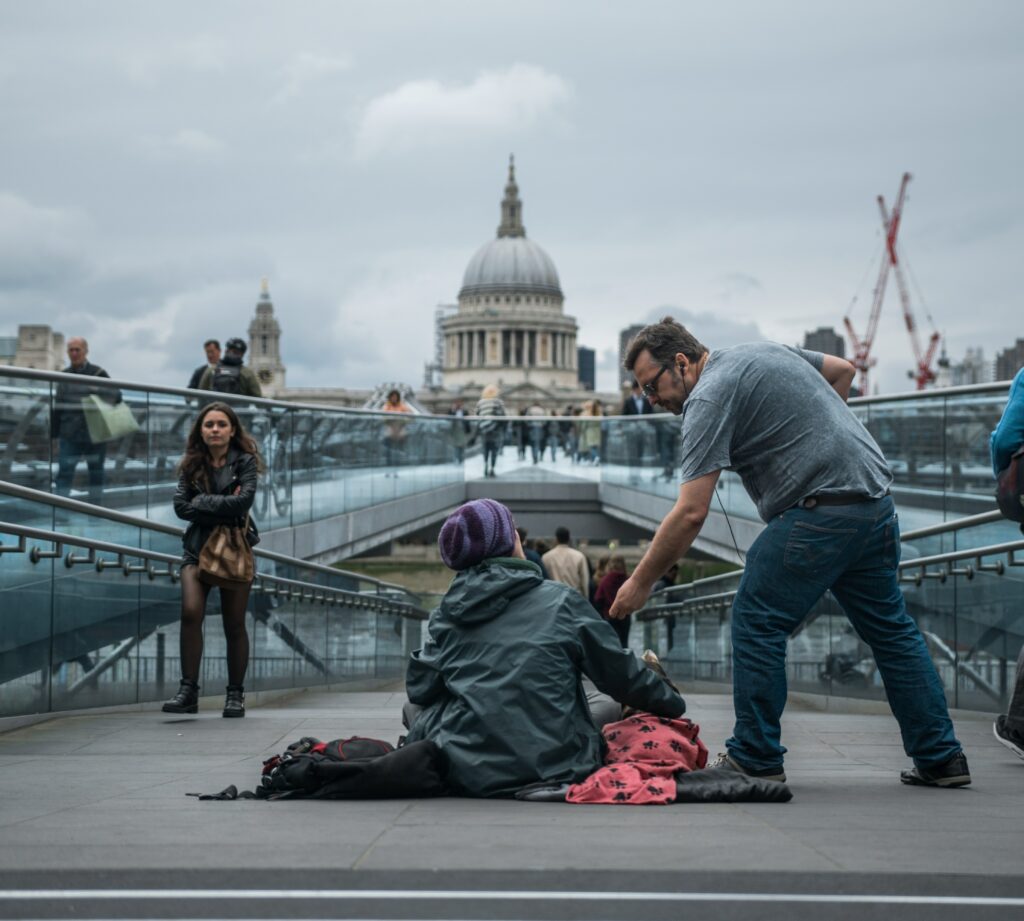 Posted 2nd May 2019
This blog is a part of our larger inequality series, focusing on the dramatic disparity in wealth and wellbeing in our country.
Despite being one of the richest countries in the world, the United Kingdom faces extremely high level of poverty and homelessness, much more than it should face. AS funding has been cut, as Universal Credit has continued to fail at its mission, and as the economy has faced major challenges, more and more people have been left without a stable place to call home.
At Social Value UK we aim to promote wellbeing amongst everybody, and to reduce inequality for all. At a time when over 320,000 people are homeless in Britain, our mission is more important than ever. Homelessness is the biggest indicator of how we are not making the right decisions, that we are not taking into account the social impact of major decisions, and how people are truly not at the heart of decision makers.
The Misconceptions of Homelessness
Many believe the level of homelessness is much lower than it is, as often only rough sleepers are considered to be 'homeless', however the definition is much broader than that.
Whilst rough sleeping is the most 'obvious' and visible form of homelessness, there are also many people who are considered statutory homeless. This includes those who are in temporary housing or shelter provided by local authorities. Every year tens of thousands apply to their local authority for homelessness assistance, many do receive this however there are strict guidelines that must be met to stay in many forms of temporary accommodation.
Many who are homeless are 'hidden' and never counted in official statistics. Due to the stigma placed on being homeless, many will never approach their council for assistance and will stay in hostels, or with friends and family for as long as they can.
It is estimated 4,677 people are sleeping rough on the streets of England, which is actually a small percentage of the overall crisis but is still too high a number.
Why we're in crisis
There are many reasons why the UK faces the homelessness crisis it currently finds itself in. Many people find themselves without a home due to social and familial reasons, others can due to mental and physical health problems. Many people find themselves homeless after leaving prison or the army, and many women are homeless after fleeing abusive relationships.
It's a complex issue that can't be boiled down to fit in a 1,000-word article. Homelessness is more than a lack of home. Are we failing to listen to people? To understand people?
However, with rising rent costs and a lack of rent control policies, many simply cannot afford to pay for the roof over their head anymore. The area with the highest rate of homelessness is Newham, London, with 1 in 24 facing homelessness. It is unsurprising that the most expensive city to live in the UK, and Europe, is the city with the biggest problem.
The decrease in social housing has had a distinct affect on homelessness. Between the early 1980s and early 2010s, the proportion of the population living in social housing halved. This can be traced to the option of Right to Buy and a decrease in social housing construction. Decisions made by the Government in the 80's were extremely short sited, and whilst they solved problems which may seem minor and temporary now, the negative effects are still being felt now, over 30 years later.
NPC believe there are five systematic factors that drive increasing homelessness:
Low pay – Unemployment is 'falling' (read more), however, 57% of those in poverty are living in a house where someone is in paid work.
Low levels of house building – 227,000 new households are required to be constructed a year, however construction is falling short of this figure.
Less social housing – Many governments have shifted their focus to 'affordable rent', however the rent is set at a level affordable for households with 'middle' incomes.
Welfare reform – Universal Credit, amongst other reforms, has had a major effect on people able to gain stable, paid accommodation.
Austerity and cuts to local authority budgets – Funding for local authorities has fallen around 50% since 2010. Funding is being cut for services all over, and the trickle-down effect is more left in housing insecurity.
What is being done
The Government has dedicated £100 million to tackle rough sleeping on the streets of England. Housing Secretary James Brokenshire has also vowed to make homelessness "a thing of the past" and the government has vowed to end rough sleeping by 2027. According to the BBC, Polly Neate, Chief Executive of Shelter has warned this is a 'step forward, but not a total fix.'
In Nottingham, Labour councillor Linda Woodings said to the BBC: "Until 2010 we received a £26m grant for this sort of work, when it was scrapped altogether.
"We didn't have the levels of rough sleeping that we see now when we had properly funded support in place."
The government will be funding 15 homelessness centres across England. Some have already opened in Brighton and Hove, Liverpool and Bristol. Others to be funded include Cheshire West and Cheshire, Derby, Gloucestshire, Lincoln, Medway, Nottingham, Preston and west London.
However, as discussed by John Sparkes, the Chief Executive of Crisis, the Government might be tackling the actual problem of homelessness, but it needs to not shy away from tackling the root causes of homelessness, the matters discussed above. If we do not fix the problems which leave people without a stable home, we are not creating lasting change, nor working to improve people's lives in the long run, it is simply a short-term fix when things have already gotten 'bad'.
Some Councils are building their own homes again, for example, Westminster Council. They have used social value metrics in the HACT Social Value Bank in order to make the case for building more affordable properties and letting them to those currently homeless.
Other organisations are expanding their services by generating new investment for example, the Bridge in Loughborough. They are using the HACT Social Value Bank as part of a strategy to attract private investors so they can expand and improve their homelessness services.
We, as a nation, must work together to prevent homelessness. Whether this is by speaking up and using our voices, by contacting our MPs or volunteering our time to local charities and donating where we can.