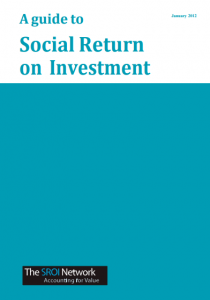 The Guide to SROI provides a clear framework for anyone interested in measuring, managing and accounting for social value or social impact.
This Guide was originally written in 2009 with the UK Cabinet Office. Updated in 2012, it is the result of consultation with practitioners, members, academics and others with an interest in social and environmental value and impact measurement.
The methodology is still being developed and Social Value International supports a Methodology Sub-Committee which considers and approves developments to the methodology. If you're interested in getting involved in this process, send us an email at .
We also have the following standards and supplements available, for use alongside the Guide. Click the links to download pdfs:
For those who just want an initial introduction to SROI, we can recommend the Starting Out on SROI Guide, to be used with the Self Assessment Tool.
Translations of the Guide
The Guide is now also available in 10 different languages including Russian, Japanese and Portuguese. Browse and download the full selection from the Social Value International website.